Good news for domestic partners and their dependents in Arizona: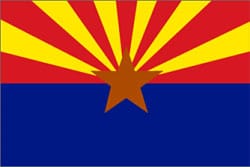 "The Governor's Regulatory Review Council, which has the final say over many agencies' proposed rules, voted 4-0 to approve changes floated by the Department of Administration with support from Gov. Janet Napolitano, a Democrat. Some Republican legislators opposed the move. Dependents of domestic partners also will qualify. Employees will be able to sign up for benefits as of Oct 1. Supporters said providing benefits to partners and their dependents would help the state reduce costly turnover by being more competitive in recruitment and retention. Napolitano, among others, has argued that it was a question of fairness. In her first year in office, Napolitano issued an executive order banning discrimination in state personnel practices based on sexual orientation."
In early February, Arizona lawmakers reintroduced legislation that would constitutionally ban same-sex marriage in the state. In 2006, voters rejected a similar measure because it went too far, prohibiting domestic partnerships and civil unions.