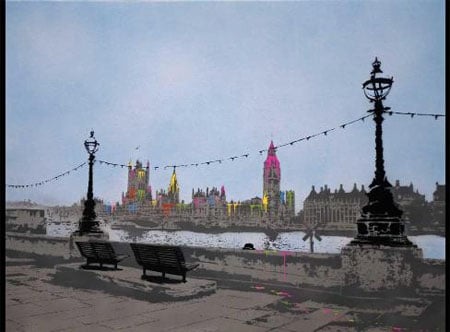 A handout image provided to media of the Houses of Parliament dripping in colors precedes a planned street art event by Banksy friend and rival artist Nick Walker, who says he'll use a giant laser to "paint" London landmarks this week. The locations he'll use are being kept a secret, reports Bloomberg:
"'Nick has a similar background to Banksy,' [Mike Snelle, director of the Black Rat Gallery in Shoreditch] said. 'The two of them hung out together in Bristol before Banksy moved up to London.' Walker's 2006 spray-painting 'Moona Lisa' sold for a record 54,000 pounds ($106,660) with fees at Bonhams's Feb. 5 'Urban Art' auction in London. Black Rat said [an upcoming April 17] exhibition will include 40 new paintings featuring Walker's artistic alter-ego 'The Bowler-Hatted Vandal' ranging in price from 3,500 pounds to 30,000 pounds. Three new limited-edition prints have also been issued, two of which cost 450 pounds and the third 750 pounds."
Speaking of Banksy, a new work that just popped up in central London is not only his largest to date, but was completed after he managed to erect a three-storey scaffolding behind a security fence under cover of darkness while CCTV cameras looked on.
Which makes it all the more appropriate that the work is a commentary on Big Brother. Check it out, AFTER THE JUMP…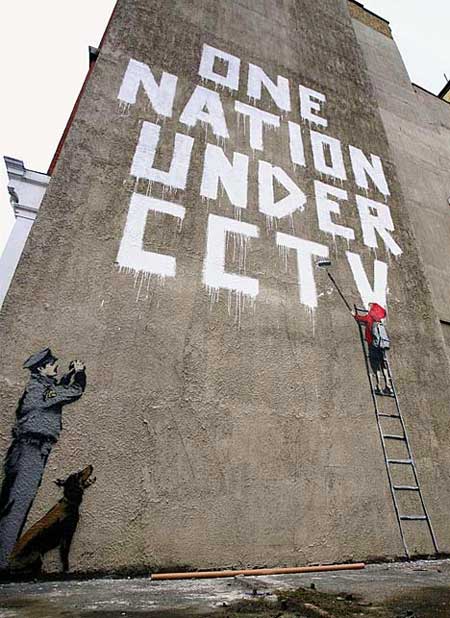 Previously
Banksy and Nick Walker a Hit at Bonham's Street Art Auction [tr]