The Advocate spoke with Corey Johnson (pictured here — you may remember Johnson as the Massachusetts high school football player who received national attention when he came out to his team in 1999) about a fundraiser held last Thursday hosted by GLSEN founder and executive director Kevin Jennings and his partner, Jeff Davis, which raised $170,000 for the candidate: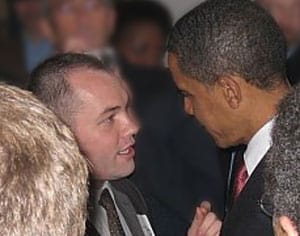 "Johnson, who is 25, has supported Obama for about a year but prefaced his remarks by saying he has never been an 'Obama-phile.' He said the senator addressed some of the most contentious LGBT issues without prompting, such as same-sex marriage and the inclusion of transgender people in the Employment Non-Discrimination Act. In fact, those were the two issues Sen. Obama singled out as being potential disappointments to the LGBT community right now, while he signaled that a hate-crimes bill could likely be passed and signed into law and that repeal of 'don't ask, don't tell' might be on the horizon. According to several sources, including Johnson and Lenore, Obama said he did not think it was "politically feasible" to secure marriage rights for same-sex couples in the country at this point. Sen. Obama acknowledged that the community wanted full marriage rights but said that he favored civil unions for now while leaving open the possibility that his position might evolve in the future. In terms of ENDA, Obama said he supported an ENDA that included transgender protections but that he didn't believe a fully inclusive bill had enough votes to pass the Senate at this time."
Johnson told Towleroad that Obama also addressed the incident last year in which it appeared he hesitated before offering an answer on whether or not he agreed with former Chairman of the Joint Chiefs of Staff Peter Pace when Pace said he thought homosexuality was immoral.
Said Johnson: "Senator Obama was asked at the fundraiser if he would publicly state that he didn't find being gay immoral in front of a non-gay audience. The question was clearly alluding to the Peter Pace firestorm from last year and Obama said that there was a misunderstanding that took place. He gave a policy speech in the morning and was walking to his car when a reporter kept shouting the question about General Pace. He said he wasn't answering any questions at all that day about anything other than the policy speech. So he said 'I'm not answering that' and got into his car. It was spun as him not speaking out against Pace's remarks. He was genuinely upset that it was portrayed in such a way in the media and tried to have his campaign clear it up immediately by repudiating General Pace with a public statement."
As to whether or not he would publicly state that he didn't find homosexuality immoral in front of a non-gay audience, Johnson said Obama declared "he absolutely would, and he has in the past."
(photo: mathew bergman)