North Carolina Governor Mike Easley is being criticized for the use of an anti-gay slur in his endorsement/introduction of Hillary Clinton today. In turn, Clinton is being criticized for standing by and saying nothing.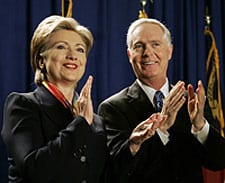 Said Easley: "This lady right here makes Rocky Balboa look like a pansy."
The Smoking Gun notes: "Easley's compliment, as it were, may offend some voters since the word 'pansy' is often used in a derogative fashion to describe a male homosexual. Or at least that's what it says in the Webster's New Collegiate Dictionary on our shelf (we scanned the 'pansy' entry from page 828 and posted it below). Other dictionaries (Oxford, Cambridge, and Dictionary.com) offer a similar definition for 'pansy,' describing it as a 'disparaging' or 'derogatory' term for an 'effeminate or homosexual man.'"
The remark has already begun to reverberate across the blogosphere. More from ABC.
Watch Easley's remarks, which I've clipped, AFTER THE JUMP…