Gay activist and philanthropist Tim Gill scaring the crap out of the religious right. Pat Robertson: "What are the Christians doing about this? The answer is 'absolutely zip'. There was an organization that I founded but it's not there anymore. To my knowledge, there is no other Christian grassroots organization that is even coming CLOSE to what Tim Gill is doing on the left for homosexuals."

Brazilian gay magazine DOM launches online.

Police arrest 13 men in the Congo for stealing and shrinking penises.

Toby Maguire gets his bear on.

Singapore's state-owned television station was fined $11,040 for broadcasting a program that featured a gay couple and their adopted child: " The Straits Times reported that Singapore's Media Development Authority said the episode of home and decor series Find and Design, in which the host helped the couple decorate a nursery, 'normalizes and promotes a gay lifestyle.' The pro-government newspaper said the censor had also objected to scenes of the couple and their baby as well as the host's acknowledgement of them as a family, because it broke a rule 'which disallows programmes that promote, justify or glamorize gay lifestyles.'"

Pittsburgh gay rights advocate Randal G. "Randy" Forrester dies of cancer at 60.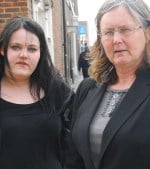 UK mother jailed for anti-gay abuse, daughter given supervision: "Canterbury magistrates heard the pair, both of The Halt, Whitstable, carried out a campaign of hate between 13 March and 17 May 2007. They called the men names and Reeves drove her car at one of them. The court was told that the pair began abusing Michael Harris and Shires Crichton, of Kingston, Kent, when both men sided with another neighbour in an ongoing dispute. During the sentencing, the chairman of the magistrates told Reeves: 'Although there was no evidence of violence, the psychological affect on the victims has been far reaching. In your case there are strong aggravating factors. Those factors are that you made homophobic gestures and remarks over an extended period and you showed no remorse.'"

Neil Patrick Harris opens up to Howard Stern about his sexuality.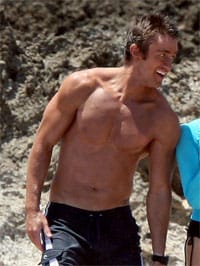 Lipstick Jungle hottie Robert Buckley may want to use some sunscreen.

Cynthia Nixon making plans to marry.

Is Chace Crawford being gay framed on Craigslist?

Now that's a chest.

Greg Siff talks about his new play The Nothing Boys opening on May 3 in L.A.

Court rules that teen can wear "Be Happy, Not Gay" T-shirt, reversing two earlier rulings: "In issuing this reversal, though, the court basically upheld the validity of the Naperville school's rule forbidding derogatory comments, oral or written, that refer to race, ethnicity, religion, gender, sexual orientation or disability. 'High school students are not adults, schools are not public meeting halls, children are in school to be taught by adults rather than to practice attacking each other with wounding words, and school authorities have a protective relationship and responsibility to all the students,' says the court's opinion, written by Judge Richard Posner."