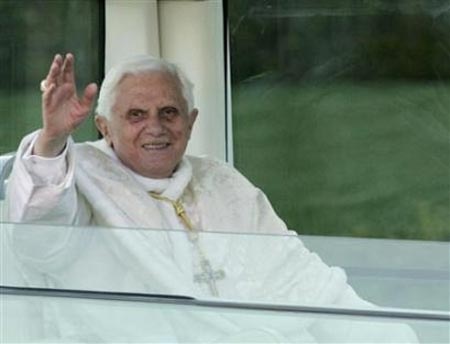 The Washington Blade reports that Pope Benedict XVI waved to members of the Gay Catholic Group Dignity USA as he sped by Dupont Circle in the Popemobile on his way to the White House yesterday:
"The pope appeared to look directly at about a dozen members of the group as they stood behind a 10-foot long banner with the message, 'Dignity Washington — Gay, Lesbian, Bisexual and Transgender Catholics, Our Families and Friends — A community of Faith in Action.'…'I thought it was a good chance for us to be seen and he obviously saw us and waved at us, so I think we got our message across,' said Raymond Panas, president of Dignity Washington. The Dignity members remained silent as the pope's glass-enclosed Popemobile drove past them along a section of Rock Creek Parkway that drew only a small number of spectators, allowing the Dignity contingent to stand out. 'Whether he actually saw or read our sign, we'll never know,' said Dignity member Bob Miailovich. 'It was nice to see him, and it was all very prim and proper. He waved in our direction and that was very nice.'"
Now, if he'd flipped them the bird dove, that would have been a story.
previously
Gay Catholics Demonstrate in NY Ahead of Pope's Arrival [tr]