The Philadelphia Gay News today published a wide-ranging interview with Senator Hillary Clinton which touched upon gay marriage, immigration law, tax code issues for civil unions, human rights abroad, gays in the military, and LGBT youth. Here are a few excerpts: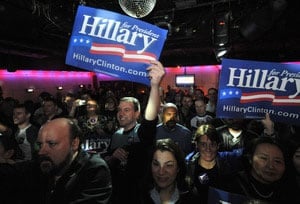 On immigration law for LGBT citizens: "I am going to do everything I can to eliminate any disparities in any benefits or rights under our law at the federal level so that all people will have available to them every right as an American citizen that they should, and that would include immigration law."
On signing an executive order to end "Don't Ask, Don't Tell": "I don't know what the legal framework would be because you remember that, in the face of what Bill [Clinton] was trying to do in '93, the act, by veto, proved majorities made prohibitions on doing that. So whether the president has authority to do it by executive order or not, I'm not sure. But I have been committed for more than nine years to eliminating "Don't Ask, Don't Tell."
On foreign human rights abuses: "There are a number of gross human-rights abuses that countries engage in with whom we have relations and we have to be really vigilant and outspoken in our total repudiation of those kinds of actions and do everything we can, including using our leverage on matters such as aid, to change the behavior so we can try to prevent such atrocities from happening."
Last week, the Philadelphia Inquirer published a story on the gay "voting force" in that city, noting that gays constitute 5 percent of voters there: "'It's important for the coalition of people supporting [Obama] to be representative of America, and that proudly includes gays and lesbians,' says Tobias Wolff, 38, chair of Obama's national gay policy committee and a law professor at the University of Pennsylvania. The gay vote is equally significant to the Clinton campaign. 'That's why we've been doing such a proactive outreach to the community,' says Jin Chon, 30, a Clinton press secretary who focuses on gay issues. 'She knows this is a very close election. Every vote matters.'"
Read the full PGN interview here.