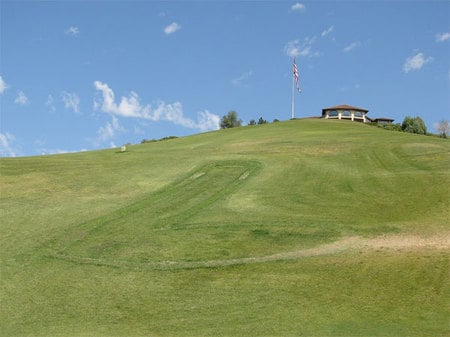 Last July, some prankster teens created a 60-foot "sculpture" on the lawn of the Governor's Mansion in Boise, Idaho, with weed killer and workers have not found a way to take care of it:
"The area was recently replanted with grass seedlings and covered with straw. A previous attempt by landscapers to obliterate the image only enhanced it with a dark green outline, after which it was covered with a bright blue tarpaulin for several weeks. 'Humor is humor, and people can laugh and we move on,' Rick Phillips, communications director for J.R. Simplot Co., told the Idaho Statesman. The grassy graffiti appeared in July after someone applied extra-strength weed killer. Officials said at the time it was too late in the growing season to attempt to remove the image. Snow hid the oversized phallus over the winter, but when it emerged again in the spring some neighbors had had enough….The affected part of the hillside belongs to Simplot, an agricultural conglomerate which donated the hilltop mansion to the state in 2004. The mansion is currently unoccupied because Gov. C.L. 'Butch' Otter lives on his ranch in Star."
I hear there's a departing U.S. Senator from Idaho who would just love a neat place to retire. I'm sure he could take care of it.
AFTER THE JUMP, the agricultural art in its previous incarnation…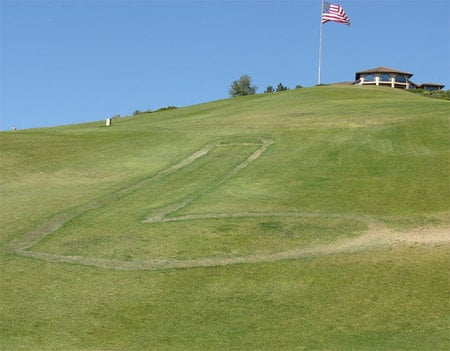 Giant phallus etched below Idaho guv's mansion removed [idaho statesman]
(image source)