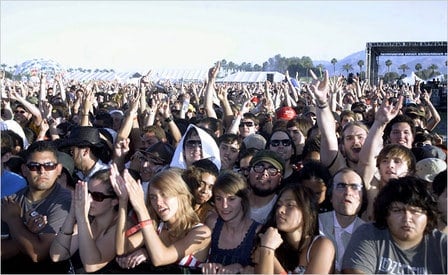 Robbie Daw presents a weekly pop music update here on Towleroad! Robbie runs his own site called Chart Rigger.
Since the inception of Indio, California's Coachella Music & Arts Festival in 1999, a half-dozen similar events inspired by Coachella (read: imitators) have cropped up annually across the states. The San Diego Union-Tribune sizes them all up, along with the growing festival fever sweeping the country.
Nevertheless, there's really only one Coachella, and this Friday kicks off the three-day outdoor "do" in the desert. Big-name headliners for the '08 fest include Roger Waters, Jack Johnson and the recently-added Prince, but flashier draws for the hipster set are Portishead, Kraftwerk, and Death Cab For Cutie. Other artists making a stop at Coachella this year are Hot Chip, M.I.A., Goldfrapp, Aphex Twin, Justice and Simian Mobile Disco, amongst over a hundred more.
One act to look out for this weekend is Melbourne electro trio Midnight Juggernauts. The synth-heavy Aussie act, which at times brings to mind Jeff Lynne in his E.L.O. days, gained attention after posting songs on MySpace and then meeting Justice, eventually being invited to support them on a tour last year.
Here are the videos for Midnight Juggernauts' "Tombstone" and "Into The Galaxy." Their debut album, Dystopia, sees a U.S. release from Astralwerks May 27.
Veteran alt rockers Love & Rockets just announced two warm-up shows prior to their Coachella gig: Pomona's Glass House tonight, and Cane's in San Diego on Thursday. They'll be the first full sets the trio has done in nine years. Says founding Rockets member David J to NME.com: "The time feels right for this band again. We'll be focusing on the music from our first four albums, the more guitar-based stuff."
In addition to some live content from the bands performing being available at Coachella.com, AT&T announced today it'll be exclusively webcasting from the event at AT&T Blueroom, while on-demand content will be made available next month.
If you've got tickets and aren't quite sure which stages to run back and forth between or how to plan who you want to see when, Artist Direct offers up a pretty decent preview of the festival.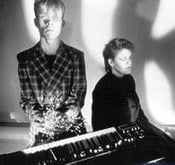 Like your pop breezy, danceable, Euro-sounding and heavy on the vocoded effects? (And, no, this isn't leading up to something on Madge's new album.) Then check out Chris Brown's new single, "Forever," a new track tacked onto the re-release of Brown's latest set, Exclusive, and added to iTunes today. Bonus gay points — not that the song needs any more — to Chris for working with Polow da Don on "Forever," who crafted Fergie's "Glamorous."

Back in January I mentioned the reunion of Yaz's Vince Clarke and Alison Moyet (pictured left) for their Yaz Reconnected tour. So what was it like the first time in 18 years they saw each other in person?

"No Air" and "Tattoo" singer Jordin Sparks was forced to cancel an Earth Day show at Washington D.C.'s National Mall today, as well as several other dates with Alicia Keyes, due to an acute vocal cord hemorrhage. "Jordin is on a vocal rest, but she's expected to make a full recovery and join Alicia on tour in May," says a statement from Jive Records.

Things are rolling along for the reunited Stone Temple Pilots. Meanwhile, think you have the chops to blow Slash away?

Though it peaked at #3 on Billboard's Hot 100 stateside, Madonna's "4 Minutes" became Madonna's 13th single to top the U.K. chart on Sunday. She's racked up 12 #1s in the U.S. so far, spanning from 1984's "Like A Virgin" to 2000's "Music." Can you guess the other 10? (They're listed here.)

Perhaps the reason Sony BMG chief Clive Davis was shafted last week was for licensing this song, which recently spent two months at #1 in Germany, for an American release.

Forty-five seconds of new music from Franz Ferdinand has leaked.
Ashlee Simpson's third album, Bittersweet World, featuring production by Timbaland and Chad Hugo of the Neptunes.
Hideaway, the third LP from indie folk-pop duo The Weepies. Last year the band collaborated with Mandy Moore on her album Wild Hope.
Elephant Shell, the debut from Canadian indie band Tokyo Police Club, who share a label (Saddle Creek) with Conor Oberst's Bright Eyes.
From Donny… With Love, a collection of covers and standards from 50-year-old crooner and cheeseball Donny Osmond. Incidentally, despite there being six songs with the world "love" in the title here, the singer's own 1989 hit, "Soldier Of Love," remains absent.