The Arizona House gave preliminary approval to a new bid to ban same-sex marriage. A similar measure was defeated earlier this month after Kyrsten Sinema (D-Phoenix) attached a clever provision to it that would have made a vote against same-sex marriage also a vote for other rights for unmarried (and gay) couples.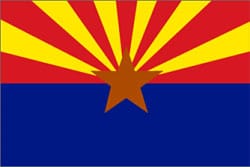 The Arizona Daily Star reports: "This time, though, Rep. Kyrsten Sinema, D-Phoenix, did not offer that same amendment. Cathi Herrod, president of the Center for Arizona Policy, said her group had lobbied to find enough votes to kill the amendment. A final House roll-call vote scheduled for later today will send SCR 1042 to the Senate, which has not yet debated the issue this session. The procedure maneuver used by supporters of the new version of the gay-marriage ban effectively blocks opponents from trying to amend the measure in the Senate."
Sinema refused to comment on what strategies she might have up her sleeve to derail the measure this time. Let's hope she has one.
House gives initial OK to bid to ban gay marriage [arizona daily star]