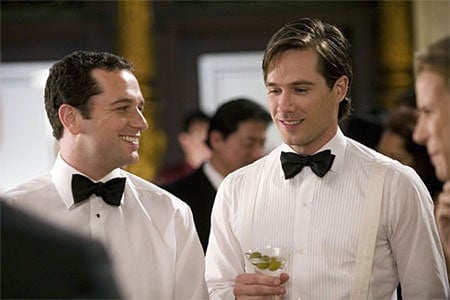 That's one fine looking couple.
[[WARNING: SPOILERS]]
USA Today visited the set of the big Brothers and Sisters commitment ceremony and collected quotes from some of the regulars.
Matthew Rhys, on the wedding cake topper: "Is it a man and a woman? Oh, it's two men. Fantastic. There were jokes made that they wouldn't be able to find two men, so they'd have to doctor the woman by adding a moustache. It's all very progressive, evolved and about time."
Rhys on the ceremony and wardrobe: "Luke and I were rehearsing who was to stand where, which would put one of us in the woman's position, and a few comments were made. And neither of us was going to wear a white suit while the other wore black."
Calista Flockhart: "It's a milestone, and I was really quite pleased that I got to be a part of it."
Rob Lowe: "It's pretty romantic in there."
Chad Lowe, who was visiting the set: "I'm here to witness history."
Balthazar Getty on Dave Annable's character being best man: "Dave's been locked in his dressing room, crying."
Annable: "Balthazar couldn't handle not being best man."
And here are some additional SPOILERS: "the liberal-leaning show does attempt to recognize those who oppose gay marriage by introducing Scotty's disapproving parents, who skip the ceremony. That volatile relationship is expected to be explored in Season 3. Another possibility: children.
Luke Macfarlane: "Kitty makes a speech about Scotty and Kevin building a family, which hopefully is foreshadowing."
Executive producer Monica Breen: "They will be a family. Kevin deserves a stable relationship in the same way that Kitty, Sarah and all the others deserve it. He will be facing many questions in his life — but now he has someone to share that with."
And if you missed it, last week's proposal, AFTER THE JUMP…
Top this: A gay ceremony on ABC's 'Brothers & Sisters' [usa today]