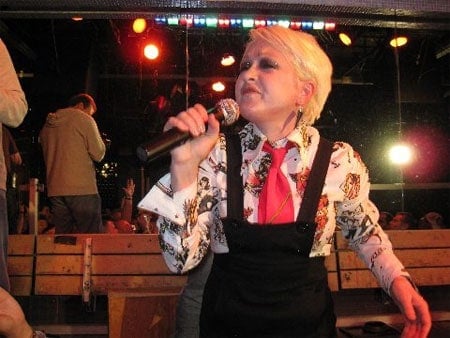 Photo taken at Splash NYC, courtesy "Workit" at the Cyndi Lauper Forum.

Robbie Daw presents a weekly pop music update here on Towleroad! Robbie runs his own site called Chart Rigger.
Cyndi Lauper shot the video for her next single, "Into The Nightlife," at New York's Splash nightclub on Tuesday last week, and there was an open call for extras. Did anyone make it?
"Into The Nightlife" is one of the tracks on Cyndi's new album Bring Ya To The Brink which she flew to Sweden to work on, this one being with the Murlyn production team's Peer Åström (who also co-wrote and co-produced Brink's "Echo"). While in Sweden, Lauper also worked with Andreas Kleerup (on "Lay Me Down"), who crafted Robyn's international hit "With Every Heartbeat," and Axwell ("Rain On Me").
The singer talked to Newsday about travelling abroad last year to work with the various co-writers and producers: "I wanted to go and experience life there. It really helped me as a writer. It's the first time I've taken a sabbatical to write, taking a sabbatical from being a mom and a wife, from this and that. It was just me, living a different life, having a moment for myself. It was extraordinary to me."
Other collaborators on the record include Basement Jaxx, The Scumfrog, Dragonette and U.S. songwriter, DJ and remixer, Richard Morel. Given the amount of cooks in the kitchen, if you ask me, Brink Ya To The Brink is a very mixed bag that actually works, give or take maybe two tracks. Personally, I keep hitting repeat on "Rain On Me"; you'd half expect to hear it chirping atop some high drama scene with Carrie in Sex And The City were it sill on. Oh well. There's always Grey's Anatomy.
In the meantime, Cyndi Lauper and Co. kick off the True Colors Tour this week. Here's a special message she taped for Towleroad readers about the concerts: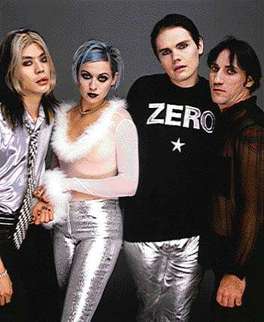 This week's free iTunes single of the week is "Blind" by Hercules And Love Affair, featuring Antony Hegarty of Antony And The Johnsons on vocals. Hercules And Love Affair is basically New York-based DJ Andy Butler's project, which features a rotating line-up of singers. "Blind" cracked the Top 40 in the U.K. earlier this year, and, curiously, Wikipedia notes that Butler "began his musical career at 15, DJing in a Denver leather bar run by a hostess called Chocolate Thunder Pussy." The act is signed to LCD Soundsystem frontman James Murphy's DFA Records.

Billy Corgan to celebrate the Smashing Pumpkins' (pictured left) 20th anniversary this fall with a handful of U.S. gigs and a collection of the band's early, unreleased recordings: "We're hoping to put out some early demos at the end of this year to start a rolling boxed set. There's an audience out there that wants to hear the fourth show we ever did with the song we only did that one time. Maybe it's only 500 people, but maybe you find a way."

Ne-Yo on writing for Lindsay Lohan's upcoming album: "We gave her a quality record and she did a ridiculously fabulous job."

Cansei de Ser Sexy, aka CSS, have added several U.S. dates to their summer tour. The Brazilian five-piece grew in popularity stateside last year after their song "Music Is My Hot, Hot Sex" was used in ads for Apple's iPod Touch.

The Sun claims that Sam Sparro says the following about Madonna in an interview for the June issue of U.K. gay mag, Attitude: "Madonna is wretched at the moment — absolutely vulgar. Put it away! You're not young and sexy anymore. She went thoughtful and mature for a while, and now she's chucked it away in some desperate attempt at being hot again. It's just a bit vile." Then again, this is The Sun we're talking about…

American Idol winner David Cook dating former contestant Kimberly Caldwell?

Blogger Brad at MuuMuse waxes on why M83 stand out in the sea of New Wave revivalists.
Despite previously stating that their act won't be doing any new music, singer Damn Albarn and artist Jamie Hewlett, better known as cartoon band Gorillaz, have written theme music for the BBC's coverage of the Summer Olympics: "The idea is you tell the story of Journey to the West in a two-minute sequence. Their treatment will kick-start our coverage in a different, energetic way."
Usher's fifth album, Here I Stand, featuring guest vocals from Beyonce and Jay-Z.
Lay It Down, a new studio album from Al Green, on which he worked with The Roots' Ahmir "?uestlove" Thompson.
Singles from the Pussycat Dolls ("When I Grow Up") and Timbaland protege Keri Hilson ("Energy").
The Sex And The City motion picture soundtrack, featuring Fergie, Jennifer Hudson, Nina Simone, Kaskade and Morningwood.
Songs In A&E, from English rockers Spiritualized. It's the band's first album since 2003, as frontman Jason Pierce fell seriously ill with a respiratory disease in 2005.