It's a small majority, but hopeful news: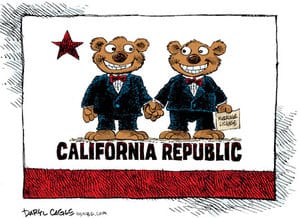 "The Field Poll survey found 51 percent against approving a possible November ballot measure to prohibit gay marriage, with 43 percent in favor. A slightly differently worded question on the same issue found 54 percent opposed and 40 percent in favor…The poll found a strong generational gap on the issue, with those aged 18-29 approving of gay marriage by 68 percent and those 65 or older disapproving by 55 percent. The poll found that in recent decades a growing number of Californians have approved allowing same-sex couples to marry, with 51 percent of those polled now approving, up from 44 percent in 2006 and 30 percent in 1985. The poll of 1,052 registered Californian voters was taken from May 17-26, in the days after California Supreme Court decision, and had a sampling error of plus or minus 3.2 percentage points to 5 percentage points, depending on the question."
In related news, the religious right has apparently been flooding Schwarzenegger's office with calls complaining about his opposition to the ban. You can voice yours as well. Here's how (via AmericaBlog):
"Call 1-916-445-2841. Then press 1 (then wait a sec), then 5 (then wait a sec), then 1, then 1." If the line is busy, call back. It only took me a few times to get through.