Gay Iranian teen Mehdi Kazemi, whose appeal for asylum in the UK made headlines in mid-March and inspired protest at Downing Street, has been granted permission to stay: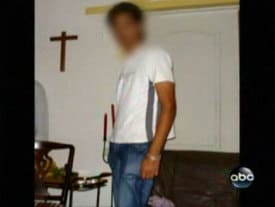 "Mr. Kazemi told UK Gay News today that he had received a letter from the Border and Immigration Agency of the Home Office to say his asylum request had now been granted. 'I am so happy,' he said, adding that he was grateful to all the help he ad been given, especially by Simon Hughes MP. There will be a full statement tomorrow."
Kazemi's case had been in limbo while the Home Office considered it. Hopefully, it will result in new policies for cases of gays and lesbians fleeing persecution in their countries.
Previously
Save Gay Iranian Teen Madhi Kazemi [tr]
Gay Iranian Mehdi Kazemi Seeking Asylum in the UK [tr]
Following Reprieve, Gay Iranian Mehdi Kazemi Thanks Supporters [tr]
Peter Tatchell on Iran and Gays: It's Like Nazi Germany [tr]
London Supporters of Gay Iranian Teen Stage Downing St Protest [tr]