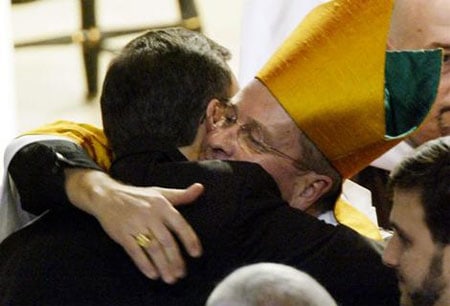 Episcopal Bishop Gene Robinson, seen above embracing his partner of 20 years, Mark Andrew, following his 2003 consecration, is set to join with Andrew in a civil union in his state of New Hampshire this weekend:
They will have a private ceremony carried out by a lawyer in front of family and friends on Saturday, followed by a service of celebration in a church nearby…Bishop Robinson, who recently claimed he had always wanted to be a 'June bride', said: 'We're very excited about it. It won't look like a wedding, but it will be wonderful.' He has been accused of staging the event just before a number of critically important Anglican summits in a bid to embarrass church leaders, who have not invited him to the once-a-decade Lambeth Conference because of the furore surrounding his sexuality. But Bishop Robinson still plans to attend fringe events at the conference in Canterbury in July, and told the Telegraph the civil union is taking place now so that his partner will have more legal rights in case he is murdered by homophobic extremists at Lambeth."
Robinson has been the target of death threats for his openness about his sexuality within the Anglican church.
Said Robinson: "I'm not willing to travel to Lambeth and put my life in danger without putting protection in place for my partner. If something were to happen to me, my partner would otherwise be treated as a complete stranger by the authorities. He would have no say over medical issues and if a body has to be claimed, he would have no right to do that. I don't want to be a martyr – I just want to be a bishop."