Rosie O'Donnell, who married her partner Kelli Carpenter at a ceremony in San Francisco's City Hall in February of 2004 after Mayor Gavin Newsom gave the go-ahead, says she'll wait this time before getting remarried: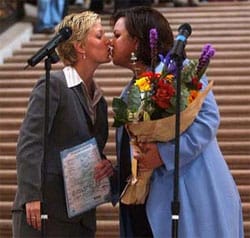 "O'Donnell told AP Radio that she and Carpenter are 'going to wait until it's legal everywhere, because otherwise, I said to Kelli, we'll be going around touring the country on the marriage tour every state by state….Once it gets to be at the federal level, once every state recognizes the marriages of every other state, I think that'll be the time we would do it," the 46-year-old comedian said. Asked if she thought that time was near, O'Donnell replied, 'Yes….The same way it was illegal for black and white people to marry at one point and people couldn't conceive of that ever being different, I do think that two consenting, law-abiding adults who want to share their life together should be allowed to do that,' she said."
Same-sex couples are set to begin marrying on June 17, however, San Francisco officials have asked the state if they can begin marrying couples at 5:01pm on June 16.
Said Newsom: "Unquestionably, we hope to extend beyond 5 o'clock. Why wouldn't we? People have longed for this for 30 and 40 years. I don't think we should deny that just on the basis of a bureaucratic timeline."
Hundreds of couples have reportedly made appointments to marry on the 17th and soon after.