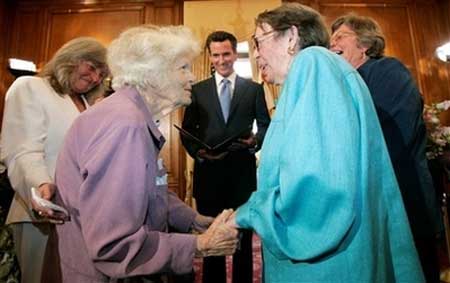 History was ushered in at 5:01 pm PST today as California began marrying same-sex couples, becoming the second state in the nation to do so.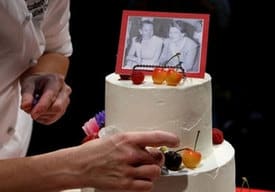 In San Francisco, 87-year-old Del Martin and 84-year-old Phyllis Lyon were married after being together for more than 50 years. San Francisco Mayor Gavin Newsom officiated:
"Well-wishers cheered when they emerged outside Newsom's office after the ceremony. Dozens of couples gathered outside the clerks offices in Alameda, Sonoma and Yolo counties, where hours were extended to accommodate gay couples who wanted to be among the first to marry. Derek Norman, 23 and Robert Blaudow, 39, from Memphis, were in the Bay Area for a conference and decided to get married at the Alameda County clerk's office. 'We might wait a long time in Tennessee, so this is our chance,' Blaudow said. First in line to pick up a marriage license in Sonoma was Melanie Phoenix, 47, and Terry Robinson, 48, of Santa Rosa. They have been together for almost 26 years and plan to be wed in August."
MORE…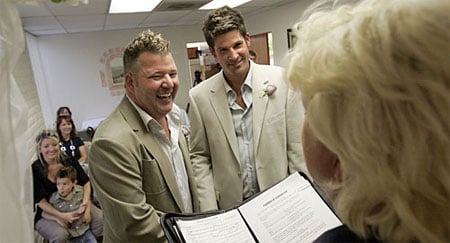 Chris Lechman and Mark Gren were first to be married in Sonoma County.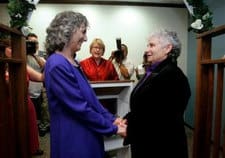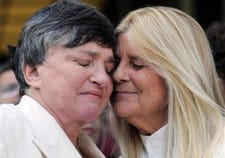 Shelly Bailes, left, and Ellen Pontac, right, were first to marry in Yolo County, and Robin Tyler and Diane Olson (I posted about them yesterday), were first in L.A.

Hundreds of appointments pending for today.


Couples in L.A. urged to appear mainstream: "no guys showing up in gowns"…


INTERACTIVE MAP: How clerks are treating it, county by county


35 out of 58 counties will not allow clerks to opt out.
It's a great day for our nation. Congratulations to the happy couples!
I've clipped CNN's coverage of the goings-on at SF City Hall last night, AFTER THE JUMP…