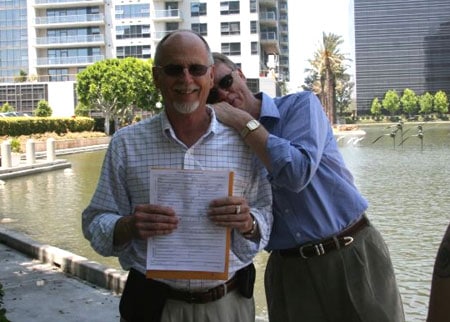 Another high-profile marriage took place on Tuesday. Soulforce and Equality Ride co-founders Mel White and Gary Nixon were married!
Our correspondent, Eric Gutierrez, was there and files this report for TOWLEROAD:

After 27 years they finally made honest men of one another. Rev. Mel White and Gary Nixon, co-founders of Soulforce and the Equality Ride to combat spiritual violence against LGBT people, married today — legally — at All Saint's Church in Pasadena. The progressive Episcopal church, targeted by the IRS during the Bush Administration for its pro-peace, pro-justice ministry, was where the grooms first met.
"It was important to me that we marry here," White said before exchanging vows and tearing up, momentarily unable to continue speaking. That is until his soon-to–be husband gave him a playful, pull-it-together slap on the cheek.
All Saint's rector Ed Bacon presided over the intimate service with approximately 20 friends and family in attendance. He may have surprised a few parishioners and reporters present by noting that the marriage rites were not magic, that after exchanging vows the couple would be no more married than they were before. "Mel and Gary have been living these vows for almost three-decades already," he explained. What they now were, however, was legal, he continued, "a sacred rite of love and justice at the heart of Jesus' teaching and the California Supreme Court's decision" legalizing same-sex marriage.
Attending the small champagne and cookie reception following the service were several religious and social justice activists/friends, including Bishop Paul Egertson who was forced to resign in 2001 from the Evangelical Lutheran Church in America for "defying church law as a matter of conscience" by supporting full LGBT civil and ecclesiastical equality; Chuck Phelan, member of the board of directors of Soulforce and the Metropolitan Community Church – Los Angeles; and Rev. Ed Bacon, among others.
The couple was last seen walking to their car to leave for their honeymoon in Laguna Beach. They return to their home in Lynchburg, VA on Friday.
According to Soulforce, media director Paige Schilt and her partner, Katy Koonce, and Soulforce Executive Director Jeff Lutes and his parter, Gary Stein, were married as well. Congratulations to them all.
Eric Gutierrez is the author of Disciples of the Street: The Promise of a Hip Hop Church
and a recent graduate of the Harvard Divinity School.
(image courtesy soulforce)