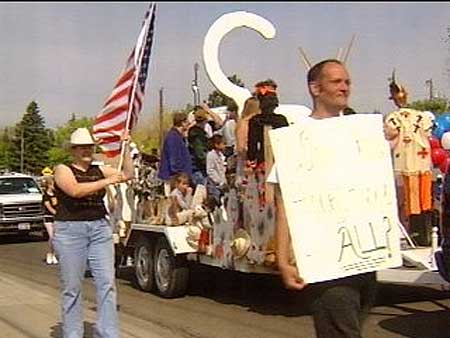 Pride vs. Prejudice. Which won?
Every year, Twin Falls, Idaho holds a Western Days parade featuring floats from local community businesses and groups, and until this year banned local gays and lesbians from having their own float, citing the area's "conservative, religous and family values."
This year they allowed them to participate, with one stipulation: the float could not have anything on it that identified the group as gay or lesbian.
According to Today's 6 News: "Tens of thousands of people line the streets to see high school bands, firefighters, local businesses and other groups that are all easily identifiable, with just one exception. A float that carries a big question mark because the parade committee only let the southern Idaho gay, lesbian, bisexual and transgender community center participate if they didn't make any reference to sexual orientation or gender identity. No rainbows. No colors. No flyers with their message. 'They didn't want us in it at all,' member Mitch Sylvester told 'Today's 6 News.' 'I don't know if they let us in to relieve some pressure that they got put on them by media and other influences last year.'"
The only people vocally supporting the group, the Times News reports, were a group of high school students.
KIVI reports: "The float participated in the parade without incident."
Which makes sense. Nobody knew what it was.