An 18-year-old returning from a Gay Pride festival in South Carolina was assaulted by his father with a baseball bat, the Independent Mail reports: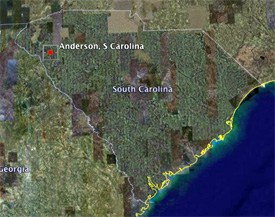 "According to the Anderson County Sheriff's Office, the battering took place about 1 p.m. Sunday on P Street. During the assault, the teen's 49-year-old father yelled, cursed, swung the bat, prayed and tried to 'cast the demon of homosexuality out of him,' according to the teen's version of events to Deputy S.C. Weymouth, the incident report states. About 2 p.m. Wednesday, the teen said his father punched him when he returned to the house for clothes that he left on Sunday, the report states. The teen told deputies that his father 'has a problem with him being gay and that is why he hit him with the baseball bat Sunday,' Weymouth said in his report."
I love how Dad involves 'God' in the violence. How tragic, having to report your violent bigot father to authorities. Police are investigating.