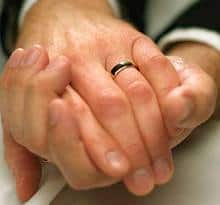 Civil rights groups have already filed to have the proposed same-sex marriage amendment tossed off the ballot in California, and now two outfits called the Alliance Defense Fund and Protect Marriage (I presume they're also anti-divorce, anti-bills and anti-children?) have petitioned the state Supreme Court to reject that plea.
The petition states:
"In reality, petitioners are challenging the sovereign power of the people to amend their constitution to override judicial interpretations of the constitution with which they disagree."
California Secretary of State Debra Bowen also filed, but only to urge the Court to decide by August 11, when ballots would be off to the printer.
The presidential candidates have weighed in—John McCain backs the amendment that is opposed by California Governor Arnold Schwarzenegger, while Barack Obama opposes it in spite of being "personally" against same-sex marriage.