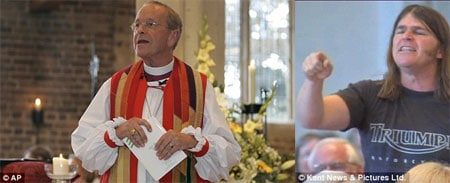 Gay Episcopal Bishop Gene Robinson, who is in the UK defying Anglican leaders who have banned him from the annual Lambeth Conference, was the target of a heckler at a service on Sunday and was forced to stop his sermon. The Daily Mail reports:
"The Right Reverend Gene Robinson, the American churchman whose appointment as Bishop of New Hampshire triggered a devastating split among Anglican leaders, was branded a 'heretic' by the lone protester. Bishop Robinson began his sermon by expressing his sadness that the Anglican Communion was tearing itself apart. The long-haired heckler repeatedly jabbed his finger and shouted 'repent, repent, repent'. He said the bishop 'preached the Gospel but departed from it' and claimed it was he who was behind the schism. The bishop had to halt his sermon as a slow hand-clap by members of the congregation began in response to the heckling. The hymn Thine Be The Glory was sung as the protester was escorted from St Mary's Church in Putney, South-West London. When Bishop Robinson resumed speaking, he asked those present to 'pray for that man'."
See video of the sermon and the heckler (and more on the Anglicans, Robinson, and Lambeth), AFTER THE JUMP…
Robinson was banned from Lambeth so that he would not become a focus of the event. As the AP notes, that strategy has backfired.
Archbishop Desmond Tutu over the weekend pleaded for unity within the Anglican Church, calling it a "mistake" for the Church to exclude Robinson form the conference. Said Tutu: "The Anglican church prides itself – and this is one of its greatest attributes – it prides itself on being the church that is comprehensive, meaning it includes all kinds of points of view. One of the sadnesses about the current crisis is that we seem to be jettisoning this wonderful inclusivity that is a characteristic of our church."