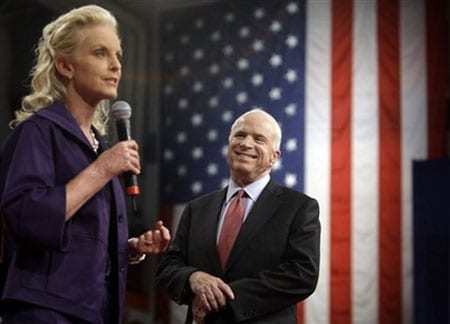 In an interview with the NYT on Sunday, John McCain said flat out that he doesn't believe gay couples should be allowed to adopt children:
"I think that we've proven that both parents are important in the success of a family so, no, I don't believe in gay adoption."
Forget all the same-sex couples who have successfully raised children. He and Cindy set the standard.
He also spoke on the subject of same-sex marriage: "Many social conservatives strenuously oppose California's decision to allow same-sex marriage. But Mr. McCain, who also opposes same-sex marriage, has always said that the issue is up to the states, and in the interview he said he would stick to that position as president even if California chose to continue allowing gay marriage after putting the matter to a statewide vote in November. 'I respect the right of the states to make those decisions,' he said."
McCain also talked about his use of the internet (clip from the Personal Democracy Forum 2008 in late June): "He said, ruefully, that he had not mastered how to use the Internet and relied on his wife and aides like Mark Salter, a senior adviser, and Brooke Buchanan, his press secretary, to get him online to read newspapers (though he prefers reading those the old-fashioned way) and political Web sites and blogs. 'They go on for me,' he said. 'I am learning to get online myself, and I will have that down fairly soon, getting on myself. I don't expect to be a great communicator, I don't expect to set up my own blog, but I am becoming computer literate to the point where I can get the information that I need.'"
In other news, following the reports of Alabama Attorney General Troy King's possible resignation over a gay affair, the McCain campaign scrubbed all references to King from its website.
And Michelangelo Signorile discusses McCain's sham marriages, responding to an L.A. Times article over the weekend which reported on the fact that McCain had obtained a marriage license for Cindy while still married to his first wife: "Although McCain suggested in his autobiography that months passed between his divorce and remarriage, the divorce was granted April 2, 1980, and he wed Hensley in a private ceremony five weeks later. McCain obtained an Arizona marriage license on March 6, 1980, while still legally married to his first wife."
McCain's Conservative Model? Roosevelt (Theodore, That Is) [nyt]