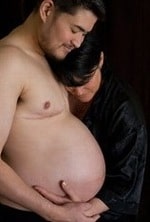 It's A Gir—Baby!: Thomas Beatie, the so-called "Pregnant Man," gave birth to a healthy girl today. Congrats to both brave parents! I think they have been unfairly ostracized and hope their daughter grows up healthy and happy.

Arizona Governor Janet Napolitano came out against amending her state's Constitution to outlaw gay marriage. "I believe marriage is between a man and a woman. I don't think the constitutional amendment is necessary. The voters of Arizona will have a chance to decide this. Personally, I'm going to oppose it. We already have a statute that defines marriage. The courts have already said the statute is constitutional."

Speak of the Devil: The "Austin 12″—prominent gay Texan Republicans who met with George W. Bush in 2000—are not solidly behind John McCain. In fact, three are either in favor of, or are considering voting for, Barack Obama. David Greer, who was on Bush's AIDS advisory board in 2003 but who became a registered Democrat that same year, says, "As long as there's a far right in the party, gay Republicans are way too small in numbers…to have any effect on the party. We actually end up doing greater and lasting harm to the GLBT community."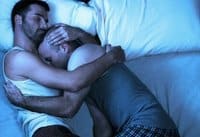 If you do Outfest, check out Ciao by Yen Tan, a moody, introspective examination of the reactions from a man's best friend and latest Internet datemate when they meet after his untimely death. I caught this at New Fest and found it really mesmerizing. Plus the actors are hot (pictured). Official site here.

Now wines are coming out of the closet.

The Broadway debut of Katie Holmes, in a production of Arthur Miller's All My Sons, is not exactly setting the world on fire.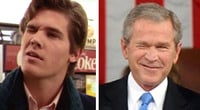 Hilarious! Check out pictures of a 19-year-old Josh Brolin playing George W. Bush 20+ years before the upcoming Oliver Stone biopic releasing later this year.

The Bishop of Durham attacks anti-gay Anglicans. "The idea they have a monopoly on Biblical truth won't do," he says. Them's fightin' words!

Canada's OUTtv, an LGBT network, is all the rage after almost flaming out…and it's owned by heterosexuals.


The N and others honored at The 8th Annual Trevor Project Awards.

The very cute Greg Siff (pictured hosting Legendary Bingo at Hamburger Mary's) is the toast of L.A. (Arnold Palmers for everyone!) with his play The Nothing Boys, based on his real-life experience of showing up for his high school reunion only to find one other person there. With good reviews from LA Weekly, Backstage and more, The Nothing Boys has been extended. Check it out.

It's an older article, but if you're interested in Big and Little Edie, this piece is well worth reading, with recollections from artist and friend Lois Wright. Wright's My Life at Grey Gardens from last year and Walter Newkirk's new MemoraBEALEia are great summer reads about two of the 20th Century's most fascinating eccentrics.