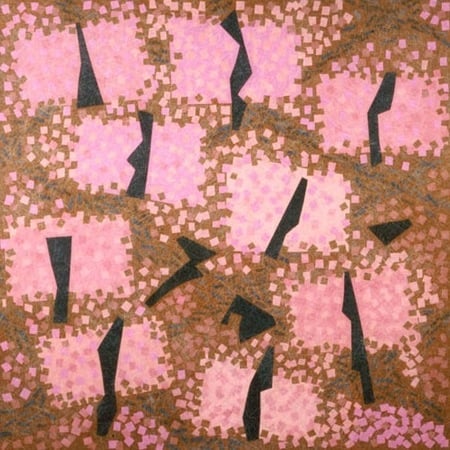 "May Orchard," 1985, collage on panel
I'm not sure what Banksy is up to (though I sure wish Andy had enlightened me about him several years ago, when I could have afforded to buy up all of his work), but I admire that Towleroad champions artists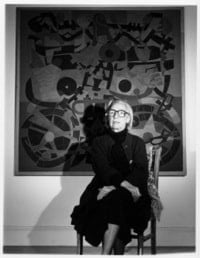 and films from time to time. On my last day of filling in for Andy, I wanted to introduce you to the artist who most inspires me: modernist painter Margo Hoff, who I had the great pleasure of meeting about 10 years ago.
I've never inquired about Margo's sexuality, but her work—edgy, formally provocative, forward-thinking—definitely has a queer appeal to my eye. Margo herself fits this description, that of a completely self-made woman with a personal style that often set her apart in even the crowd she used to hang out with, which included Berenice Abbott (Margo taught her how to do linoleum cuts) and Georgia O'Keefe.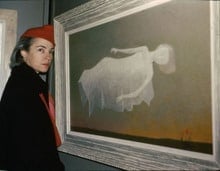 A quote from Margo as relayed by her good friend Gordon Wallace: "What difference does it make where you came from? It's not about that. It's about what you choose for yourself!" (Pictured at left: "Dream of Flying, 1950, oil)
Margo just celebrated her 98th birthday with champagne and cake. Although she no longer paints, she still lives in the same spartan loft on 14th Street where she worked for four decades. I'm told she's always lived simply because her life was so focused on the things that would enhance her work, not her comfort—great natural light, plenty of open space for work tables, a place to store her canvasses.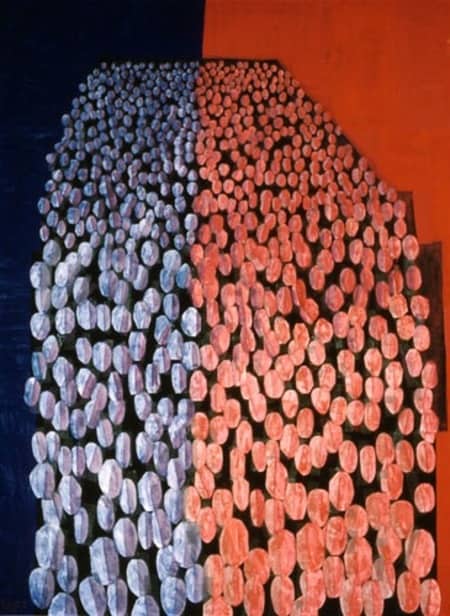 "The Crowd," 1960, paper collage and acrylic (from the Met)
Born in Tulsa, Oklahoma, in 1910, she would, as a child, make tiny figures of animals and people out of the clay left behind by local well-diggers. She nearly died at 11 from typhoid fever, and during the subsequent months of bedrest her imagination came alive; she began drawing, and from this point on knew that art would be the center of her life. In her early twenties, she made her way to Chicago and art school. Her early works were figurative, but with a singular vision that soon attracted interest.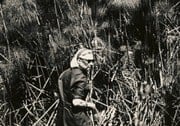 Margo first exhibited at the Art Institute of Chicago in 1944. I worked in the Fine Arts Building on Michigan Avenue across the street for years in the '80s and '90s, so it's fun to imagine Margo in that setting. By 1950, Margo was showing her work around the world, including a one-woman show at the Paris Wildenstein Galleries in 1955, and later representation by Betty Parsons in New York. Her work is in the Whitney, the Metropolitan, Biblioteque Nationale Paris, the Library of Congress, the National Gallery, London's Victoria and Albert and many other institutions. She was even an artist-in-residence in Uganda (pictured).
She has been a Manhattanite since 1960; I think my adopted hometown should treasure her for her innovative work and longevity, not least because it was in New York that Margo plunged into what would become her defining medium—canvas collage.
Why do I love her work? Because it's not blatantly figurative, but even her more abstract pieces slyly suggest their intentions. As far as I've seen, everything she liked enough to finish is exquisite, often with a sobering, chilly beauty.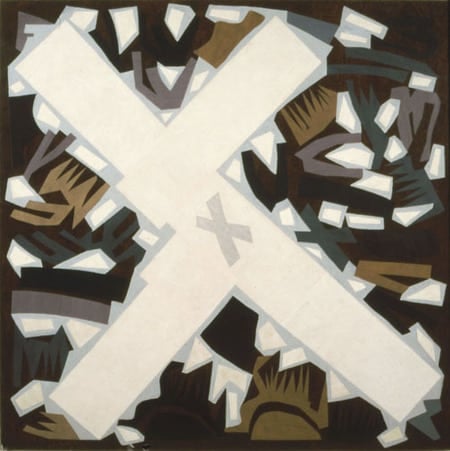 "Winter Path," 1985, collage on panel (from my collection)
I'm writing about Margo partly because Margo's work has been enjoying an incredible late-life revival—her pieces have knocked down big prices at various auctions, she has a painting on view in the show The Big Picture: A New View of Painting in Chicago at the Chicago History Museum and will show at Corbett vs Dempsey, also in Chicago, next year.
Thanks for indulging me in my endorsement of this living legend. I've bought several of Margo's pieces over the years, but I promise my plug for her is not to help drive their prices up—I won't be interested in selling them until I'm 98 and ready to stop working so hard.
Find out more at MargoHoff.com.