Wesley Clark stands by his dressing down of John McCain.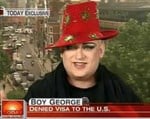 The U.S. doesn't find Boy George appealing—so his first tour in ages is officially off. I guess America doesn't know a good drag queen when we see one.

No charges for Virginia men who managed to get married thanks to bridegroom Justin ("juh-STEEN") being very in touch with his feminine side.

MySpace and Rock the Vote launch a DemROCKracy Band Competition to amp up the youth vote. The band enticing the most voter registrations through MySpace's user registration tool (found here) can win prizes, including a chance to perform "on a major concert stage."

I Know Who Drilled Me: A Montana woman admits to a long-ago affair with Lindsay Lohan's father Michael and wants her 13-year-old daughter acknowledged as his. God…there's another Lohan out there?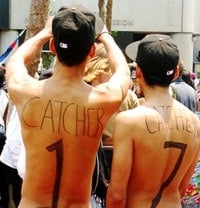 Arresting San Francisco Pride Weekend images. (Some NSFW.)

Jesus Christ…another alternative for disgruntled Hillary Clinton supporters. (Though the media has given this guy a free pass, too, grumble.) Feeling the heat, Obama ups the ante. Obama and Jesus…potential running mates?

Burning Up: Madonna's childhood home burns under suspicious circumstances just as her Sticky and Sweet Tour rehearsals are heating up. But a divorce? A sampling of A-Rod? You're getting cold.

Bette Midler's wedding snaps from her 1984 Las Vegas ceremony arrived in her hands only this month. What do you expect when you say "I do" in a place called the Starlight Chapel?

The Outfest 2008 box office is now open at the Directors Guild of America in Hollywood. If you've never gone and are close enough to go, go—I had a blast the year I went.


Derek Jeter loses the beard.

Huntington Beach police officer Adam Bereki has settled his suit against the city, which alleged he endured repeated gay harassment by his co-workers. He'll get $150,000 upfront and $4,000 a month in disability for life. Even though the city admits no wrongdoing and none of the accused officers have been penalized, spokesman Lt. Dave Bunetta says, "Anyone being harassed or victimized will not be tolerated by the police department." I wonder if he realizes what he's saying was literally true in this case?

Check out this warm backstage remembrance of Katharine Hepburn (who would be 101 this year) by Tim Ranney, who interned on her play The West Side Waltz in 1981. Her advice: "Obey all the rules, and miss all the fun."

The best reason yet to vote for Barack Obama.