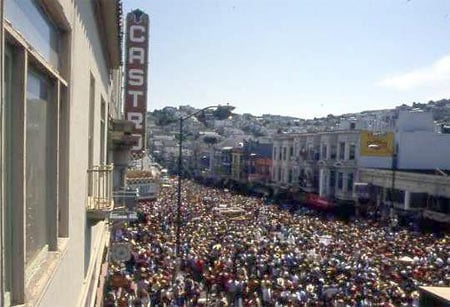 Residents of San Francisco's Castro district, which expects to see additional increases in tourism once the movie Milk is released this fall, are troubled by an increase in tour buses which stop to unload out-of-towners eager to see the gays in their natural habitat:
"For gay and lesbian residents, who are doing nothing more remarkable than, say, walking over to Cliff's Hardware Store, the idea that as many as six tour buses could turn up at once seems bizarre. They also worry that the upcoming release of the movie "Milk," based on the life story of Castro Street politician Harvey Milk, will just be another step toward turning the Castro into a kind of urban theme park for looky-loos. 'It is the spectacle of people who might be different. That's all it is,' said attorney Rob Guite, a Castro resident. 'The tourists appear to have little regard for the neighborhood and its residents and view the stop as akin to visiting a zoo or other attraction where they are entertained by exhibits or animals.'"
When Castro Street was transformed in January for the shooting of Milk businesses expressed concern over the circus atmosphere that filming brought to the neighborhood but felt reassured that the movie would help revitalize businesses in the area.
Image: 1977 Castro Street fair by Jerry Pritikin.