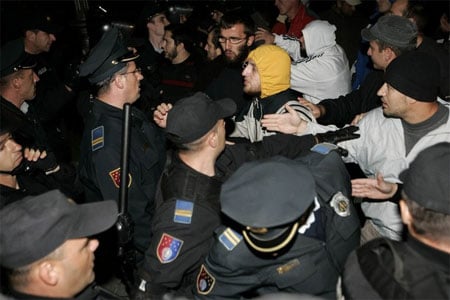 Police clashed with anti-gay rock-throwing protestors outside the Sarajevo Art Academy building where the country's first gay and lesbian festival was kicking off. The anti-gay protestors also dragged people out of cars and beat them in the street. Nine were injured, according to news organization B92: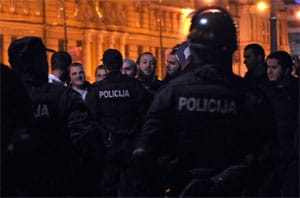 "The hooligans, some with their faces covered, and other with long beards, were yelling insults at the festival participants and shouting, 'Allahu Akbar!' They also dragged people out of their cars and physically attacked others in the festival on the street. Six people were taken to the hospital with head injuries. The person suffering the most serious wounds was a Danish citizen. One police officer was also injured in the clashes with the hooligans. Police arrested eight attackers. Journalist Emir Imamović and writer Peđa Kojović were also injured. The hooligans gathered right before the opening of the exhibition. The police believe that they were football hooligans, judging by the clothes they were wearing and emblems that were noticed."
At the Academy, artists showed a multimedia exhibit covering gay rights.
International human rights groups sounded warnings in mid-September after posters reading "Death to Gays" were posted around the city. The Muslim community in Sarajevo was accused of stoking the anti-gay rage.