Burnside (below, right) was 91, invented a variation of kaleidoscope used in films called the teleidoscope, and had a 39-year relationship with Mattachine Society founder Harry Hay (below, left):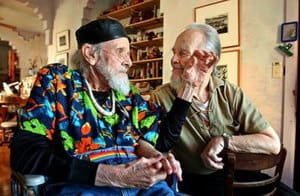 "When they first met at a gay community center in downtown Los Angeles in 1963, Burnside was married with no children. He divorced his wife and moved in with Hay. The two men became a highly visible activist couple, including appearing together on confrontational TV talk show host Joe Pyne's program. In 1965, Burnside and Hay helped form the Southern California Council on Religion and the Homophile. A year later, they participated in one of the country's first gay rights demonstrations: a 15-car motorcade through downtown Los Angeles protesting the exclusion of gays from the military. And in 1969, they participated in the founding meetings of the Southern California Gay Liberation Front, one of which was held at Burnside's teleidoscope factory."
Hay died in 2002 at the age of 90.
More here…
AFTER THE JUMP, a poem by John Burnside — "Learning Yearning Burning"…
John Burnside dies at 91; gay rights activist, teleidoscope inventor [la times]
(image source)