Outweek archive now online.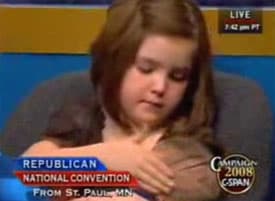 Piper Palin demonstrates the Alaskan spit shine.

The anti-John Edwards?: Anderson Cooper hair-cut price $15.

McCain threatens legal action over National Enquirer Palin affair rumor. Steve Schmidt: "The smearing of the Palin family must end. The allegations contained on the cover of the National Enquirer insinuating that Gov. Palin had an extramarital affair are categorically false. It is a vicious lie. The efforts of the media and tabloids to destroy this fine and accomplished public servant are a disgrace. The American people will reject it."

Oprah Winfrey kicks off season with Michael Phelps, 149 other athletes.

Giant spider attacks Liverpool.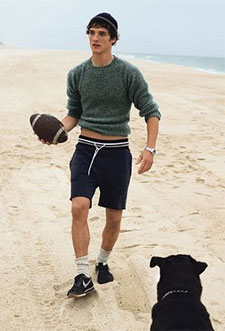 The enduring style of JFK Jr.

Yves Saint Laurent head designer Stefano Pilati says being gay helps him see women objectively: "I always wonder why 99 percent of the top male fashion designers are homosexual. In my case, I would say that my sexuality has led me to love women to death and to hate them as well … [Being gay] helped me understand the male mind. But when I do a fitting with a woman, I think, Would this woman seduce me?"

Michelangelo Signorile's interview with Sally Kern at the RNC. FLASHBACK: Meeting.

France to call on United Nations to step up action against homophobia, violence against women: "Junior Human Rights Minister Rama Yade told the 61st annual conference of non-governmental organisations at UNESCO headquarters in Paris that a text would be submitted to the EU in the coming days. France, as holder of the six-month EU presidency, hopes to 'set the criteria for EU intervention' in the fight against violence towards women, including by mobilising Europe's diplomatic networks. Paris also plans to submit a draft declaration to the UN General Assembly in December aimed at combating homophobia and decriminalising homosexuality, which is punishable by prison in 90 countries and in theory by death in six of them, Yade said."

Village People to get star on Hollywood Walk of Fame.

Second chance: Britney Spears to kick off 2008 VMAs…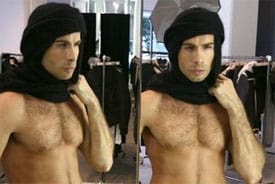 Adult film mogul Michael Lucas launches fashion site:

Episcopal Bishop Gene Robinson says it's time to get serious about Obama: "With John McCain, we will see the conservative near-majority on the Court shift to a solid majority – with devastating results when the 'full faith and credit clause' of the Constitution is challenged in the recognition of gay marriages. With Barack Obama, we have someone who is utterly sympathetic to our full and equal rights as citizens. I know, he won't say he's for equal marriage rights (neither did Hillary), but he still is the most LGBT-friendly president we will have ever had. I know from my own private conversations with him that he is totally in our court. I believe him, and I trust him, not to throw us under the bus when the election is over."