Salt Lake City police are looking for a man they say beat another man in an anti-gay assault on August 9th: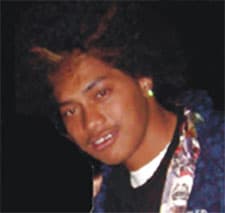 "Four people, including the victim, were partying on Churchill Drive. The location overlooks the valley and is a common meeting spot for teenagers and young adults, said Salt Lake police spokeswoman Lara Jones. The victim did not know the suspect prior to that meeting, she said. Everyone in the group was friendly at first, and the victim even had his picture taken with the others, Jones said. After the picture, the assailant , who is approximately 20, asked the victim if he was gay. When he stated he was, the man and several others hit the victim several times, breaking his orbital bone, Jones said. The victim has since had to undergo reconstructive surgery. The only description of the suspects police had Thursday was they were all Polynesian."
Anyone with information on the Salt Lake beating or the suspect can call police at 801-799-3000.