Over the weekend the MSM picked up on some news that was reported last week in Time magazine, that the "ex-gay" conference called 'Love Won Out' was being promoted by Palin's own church, which printed an ad for the conference in its church program: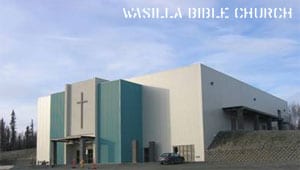 "At the 11:15 a.m. Sunday service, hundreds sit in folding chairs, listening to a 20-minute sermon about the Book of Malachi and singing along to alt-rock praise songs. The only sign of culture warring in the whole production is an insert in the day's program advertising an upcoming Focus on the Family conference on homosexuality in Anchorage called Love Won Out. The group promises to teach attendees how to "respond to misinformation in our culture" and help them "overcome" homosexuality."
On Friday, the AP added it to its list of items the media may be waiting to ask Palin about: "Focus on the Family, a national Christian fundamentalist organization, has scheduled the "Love Won Out" Conference for Sept. 13 in Anchorage, about 30 miles from Wasilla. Palin, campaigning with McCain in the Midwest on Friday, has not publicly expressed a view on the so-called 'pray away the gay' movement. Larry Kroon, senior pastor at Palin's church, was not available to discuss the matter Friday, said a church worker who declined to give her name."

According to the AP, the bulletin said of the conference: "You'll be encouraged by the power of God's love and His desire to transform the lives of those impacted by homosexuality."
Palin needs to be asked about what her positions are on "curing" homosexuality through the kind of discredited Christian therapy programs this group promotes. It's not looking like they're going to get that chance very soon. More on that in a bit.
Last week I posted some video of Palin speaking at the Assemblies of God church, her childhood church, which showed how close evangelical Christianism is getting to the White House. I also posted a list highlighting Palin's anti-gay record.
AFTER THE JUMP, the first part of a documentary on Sarah Palin's churches.
The HuffPost writes: "Sarah Palin's churches are actively involved in a resurgent movement that was declared heretical by the Assemblies of God in 1949. This is the same 'Spiritual Warfare' movement that was featured in the award winning movie, "Jesus Camp," which showed young children being trained to do battle for the Lord. At least three of four of Palin's churches are involved with major organizations and leaders of this movement, which is referred to as The Third Wave of the Holy Spirit or the New Apostolic Reformation."