Donors in California's Orange County, despite being home to fading gay getaway Laguna Beach, have contributed nearly a quarter of the money collected to implement Proposition 8, the California amendment that would define marriage between a man and a woman, effectively banning gay marriage in the state.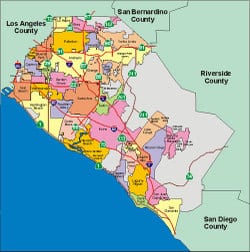 The OC Register reports:
"Orange County donors have contributed $1.6 million for Proposition 8, a November ballot initiative that would amend the state constitution to define marriage as between a man and a woman, eliminating the right of same-sex couples to marry. Donations from here to support Prop. 8 constitute 24 percent of the $6.8 million raised statewide, according to campaign finance records filed with the California Secretary of State through Aug. 28. Orange County's portion accounts for 15 percent of the $10.9 million that had been raised nationwide in support of Prop. 8."
The San Jose Mercury News reports on the decision-making going on around the ballot measure, with many couples opting to get their marriage in before the vote and others holding off for fear of disappointment, although California Attorney General Jerry Brown has said that Prop. 8 won't be retroactive.