Robbie Daw presents a weekly pop music update here on Towleroad! Robbie runs his own site called Chart Rigger.
Ten years ago this month, "…Baby One More Time," a single from a little-known former Mouseketeer named Britney Spears was released. A few months later, it topped Billboard's Hot 100 Singles chart and launched the career of the most-searched individual on the Internet in 2008.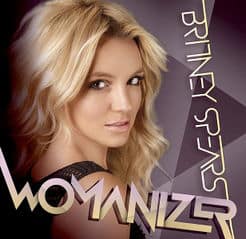 And so yesterday it was reported by Billboard that Spears' new single "Womanizer" sold 286,000 digital downloads in its first week of availability—enough to unseat T.I. and Rihanna's "Live My Life" from the top of the Hot 100 and become Britney's second U.S. chart-topping song.
One interesting fact to consider: "Womanizer" makes only the sixth Top 10 hit (in the U.S.) of Britney's career, after "…Baby One More Time" (#1, 1999), "You Drive Me Crazy" (#10, 1999), "Oops!…I Did It Again" (#9, 2000), "Toxic" (#9, 2004) and "Gimme More" (#3, 2007).
As a sign of how much the music business has changed since the advent of the iTunes/paid digital downloads age, Rihanna has had five #1-charting singles in the past two years alone. One thing that factors into that is that when Britney's first three albums were released, there was no online music store that figured into chart tallying. And Jive Records didn't release physical CDs for most of Britney's singles, leaving them to chart on airplay alone.
Anyway, at the end of the day, "Womanizer" has become Britney's second #1 single. Combine that with her winning her first three MTV VMAs last month for "Piece Of Me," and it's hard not wonder if all the current goodwill for her might not stem more from a desire for Spears to rebound from her previous bad couple of years than from a general quality improvement of her musical output.

Switching gears, here are a few clips of songs from pop acts across the pond:
1. Ace Of Base, "Wheel Of Fortune 2009": One of the Swedish foursome's (now pared down to a threesome) first singles gets an electro update for the band's umpteenth greatest hits collection.
2. The Saturdays, "Up": The British girl group who supported Girls Aloud on their recent U.K. tour comes into its own with their second single, out this week in their own country.
3. Keane, "The Lovers Are Losing": This one's available this week on U.S. iTunes.
4. Take That, "Greatest Day": First single off the thirtysomething Brit boyband's upcoming fifth album, The Circus. And, yes, it's a ballad.
Keane's third album, Perfect Symmetry. co-produced by Stuart Price and Jon Brion with the band.
Lucinda Williams' 10th studio album, Little Honey, featuring appearances by Elvis Costello, Susanna Hoffs, Charlie Louvin and Matthew Sweet.
Nikka Costa's Pebble To A Pearl, produced by her husband Justin Stanley.
New singles from Taylor Swift ("Fearless"), Fall Out Boy ("What A Catch, Donnie"), Seal ("A Change Is Gonna Come") and The Decemberists ("Always The Bridesmaid").