Arnold Schwarzenegger has vetoed legislation that would have approved May 22 as "Harvey Milk Day" in California.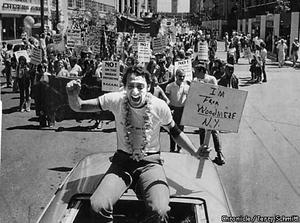 Said Schwarzenegger in a statement: "I respect the author's intent to designate May 22nd as 'Harvey Milk Day' and a day of special significance for California public schools and educational institutions to honor Harvey Milk as an important community leader and public official in the city and county of San Francisco. However, I believe his contributions should continue to be recognized at the local level by those who were most impacted by his contributions."
The bill was authored by Assemblyman Mark Leno.
The California Senate approved the measure along party lines in August. Not one Republican voted for it. Religious right wing activists had been lobbying Schwarzenegger's office for weeks to have the legislation quashed, upset that it would 'promote homosexuality' in schools. Looks like they won.
This is outrageous. Milk is a civil rights leader who deserves this recognition. Let's not let the right win on same-sex marriage as well. Schwarzenegger should be ashamed.
Milk's story is, of course the subject of a major feature film directed by Gus van Sant starring Sean Penn, to be released at the end of November. You can read all our Harvey Milk and our Milk coverage here.
Watch the film's trailer, AFTER THE JUMP…