Hate crimes down in 2007, except for those based around sexual orientation. Anti-gay bias crimes saw an increase of 6%.

Top McCain adviser calls Palin "a whack job."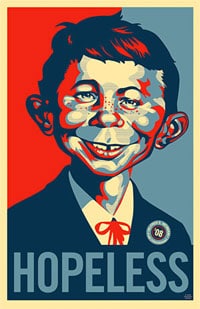 This gallery contains nearly 100 parodies of the famous Shepard Fairey 'Obama Hope' poster. But the artist told BoingBoing that by far his favorite is the cover of the current issue of Mad magazine: "I loved Mad as a kid. I think Mad's satire heightened my understanding of irony and hypocrisy. I'm very excited to be a part of Mad's history."

New video: Christina Aguilera thinks she's Catwoman now.

Sarah Palin's favorite consignment store 'Out of the Closet' served with "cease and desist" order from The AIDS Healthcare Foundation, which runs a thrift store by the same name in California and Florida: "We are grateful to Governor Palin for bringing the infringement of AIDS Healthcare Foundation's trademark on our eighteen year-old 'Out of the Closet' name to our attention. In addition to raising funds for the care and treatment of thousands of people with AIDS in the US and around the globe, several AHF 'Out of the Closet' sites also serve as free HIV and STD testing centers…"

Cindy Crawford does Amy Winehouse for Halloween.

In June 2007 I reported that Gus van Sant and Milk screenwriter Dustin Lance Black had attached themselves to Tom Wolfe's book The Electric Kool Aid Acid Test, for a feature film. FOX Searchlight has now picked up the project.

Joe Lieberman: McCain "will live to 85, at least."

The first track-by-track review of the new Killers album, Day & Age.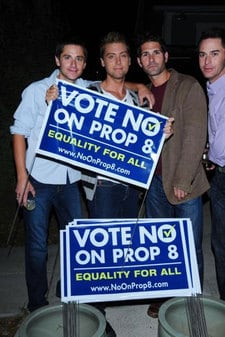 Lance Bass fights Prop 8 battle in guyliner.

90210 star Dustin Milligan says no to gay jokes: "My personal views on homosexuality and bisexuality and sexuality in general are so far from the dark place where these kinds of hateful terms come from and are not at all reflected accurately by such a statement. Especially now, when same-sex marriage is such a big issue in the US, I feel the days when jokingly calling someone a 'homo' or saying 'that's gay' are simply over." (via afterelton)

Nobel Laureate Dr Harald zur Hausen urges HPV vaccine for boys.

HELP: Im a gay married Mormon in the closet…

Gay MP in the UK attacked as he delivered balloons to his parents on their 50th anniversary: "Adam Price, the Plaid Cymru MP for Carmarthen East and Dinefwr, and a friend were treated in hospital after the assault by four youths in Worcester on Saturday. Mr Price's spokeswoman, Heledd Fychan, said he received facial cuts and was unable to attend the party. 'A gang of youths set upon him randomly. They had no idea who he was. It was an unprovoked attack. He is a bit battered and bruised and has a black eye, but no broken bones.'"

Three Democratic operatives on what Obama needs to do to close the deal.

Jonas Brothers to make film debut in movie about farting dog.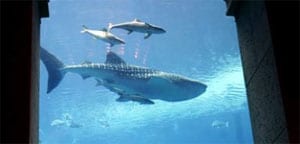 Government orders Atlantis Dubai to free whale shark.

Matt Damon stumps for Obama.

London getting a new gay theatre: "…that's what's happening in Victoria, where the Shameless theatre company is taking over the 50-seat fringe theatre above The Stag pub in Victoria and rebranding it as the Above the Stag Theatre. Artistic director Peter Bull says the company plans on plays and musicals, focusing on new work loosely based around gay themes. The inaugural production will be American Briefs, a series of short works by US-based playwrights…"

UK Sunday Observer: 24% of British think gay sex should be criminalized?