A new CBS poll by SurveyUSA has opponents of Proposition 8, the measure that would ban same-sex marriage in the state, understandably concerned: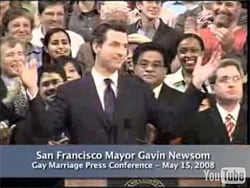 "According to the poll, likely California voters overall now favor passage of Proposition 8 by a five-point margin, 47 percent to 42 percent. Ironically, a CBS 5 poll eleven days prior found a five-point margin in favor of the measure's opponents. The only demographic group to significantly change their views during this period were younger voters — considered the hardest to poll and the most unpredictable voters — who now support the measure after previously opposing it. It should be noted that the poll, conducted statewide Oct. 4 and 5 among 670 likely voters, has a margin of error of plus or minus 3.6 percent, and the pollster continued to label the race too close to call — just as it did eleven days ago."
As I mentioned last week, supporters of the anti-gay measure recently began hitting airwaves with an ad featuring San Francisco Mayor Gavin Newsom celebrating the Supreme Court decision that legalized same-sex marriage in the state.
Watch it again, AFTER THE JUMP…
No on Prop 8 [official site]