You may remember back in April 2007 a column by L.A. Times sports writer Mike Penner which got a ton of press.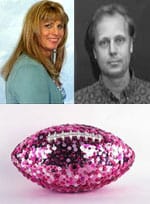 Said Penner in that column: "Today I leave for a few weeks' vacation, and when I return, I will come back in yet another incarnation…As Christine [Daniels]…I am a transsexual sportswriter. It has taken more than 40 years, a million tears and hundreds of hours of soul-wrenching therapy for me to work up the courage to type those words. I realize many readers and colleagues and friends will be shocked to read them."
Today it has been confirmed by Sports Editor Randy Harvey that Christine Daniels, whose transition was chronicled in a blog by the paper, will be returning to write for the paper…as Mike Penner.
The blog entries regarding Penner's transition have reportedly been removed.