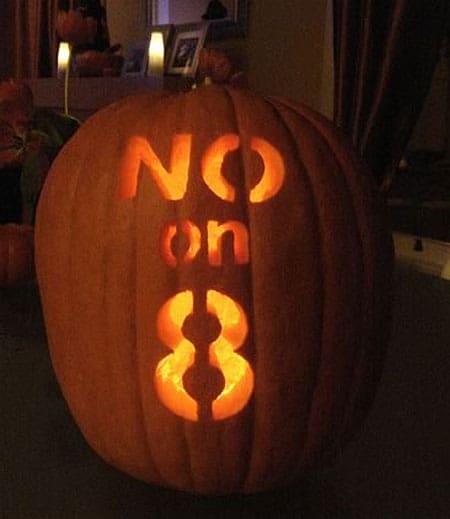 I've been making ongoing updates to this since my initial post and will continue to run this on the front page for the remainder of the day.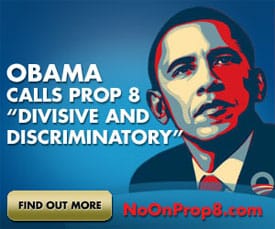 There is so much going on right now, I've tried to round-up all the Prop 8-related news I've received over the past 48 hours into this one post. There's a lot. I encourage you to educate yourselves, and DONATE if you can. This weekend is extremely important, and THE CALL prayer rally in San Diego that the anti-gays are putting on is sure to draw a lot of attention.

The results of a NEW FIELD POLL were released last night: "A new Field Poll shows Proposition 8, one of the most closely watched state ballot measures in years, is supported by 44 percent of likely voters. Forty-nine percent oppose it, and 7 percent are undecided. In the last Field Poll, released Sept. 18, the measure was behind by 17 points. 'It's certainly closer than it was before the advertising campaign hit,' said Field Poll director Mark DiCamillo. 'A lot of that has to do with the campaigning on the Yes (on 8) side.' More analysis on the poll here.
DONATE HERE and help win this battle. Your help is URGENTLY needed, particularly in light of the following new information: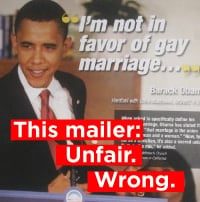 The "No on Prop 8" campaign condemned an official Proposition 8 mailer (pictured) targeted at African-American voters that misprepresents Obama's position on Proposition 8. The Obama campaign released a statement in response to the mailer: "Senators Obama and Biden have made clear their commitment to fighting for equal rights for all Americans whether it's by granting LGBT Americans all the civil rights and benefits available to heterosexual couples, or repealing 'Don't Ask, Don't Tell," said a statement issued by campaign spokesman Ben LaBolt. "Senator Obama has already announced that the Obama-Biden ticket opposes Proposition 8 and similar discriminatory constitutional amendments that could roll back the civil rights he and Senator Biden strongly believe should be afforded to all Americans."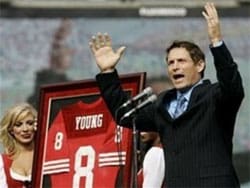 Former San Francisco 49ers' Hall of Fame quarterback Steve Young, one of the Bay area's most prominent Mormons, has posted "No on Prop 8" signs in his front yard, a visible and significant break from the church that has funded the majority of the campaign to pass the anti-gay ballot measure: "In addition, records show Young's wife, Barbara, has donated approximately $50,000 to the 'No On 8' campaign aimed at defeating Proposition 8. Steve Young, answering a doorbell ring at his home late Friday afternoon, declined to comment about the signs in his yard. But in an e-mailed statement to the gay rights group Equality California, Barbara Young wrote: "We believe all families matter, and we do not believe in discrimination, therefore, our family will vote against Prop. 8."
Donations for and against Proposition 8 have shattered records, according to U.S. News and World Report: "the campaigns for and against Proposition 8 have raised more than $60 million in donations, setting a new record nationally for a social policy initiative—and trumping every other race in the country this year in spending except the presidential contest."

'No on Prop 8' released this new ad featuring Samuel L. Jackson, called "Discrimination".

NO ON 8 STATEMENT on FIELD POLL: "The Field Poll shows that Prop 8's deceptive campaign has failed to move their numbers much at all. Prop 8 is trying to run a campaign to get to a Yes vote, yet they have remained in this and other polls well below the 50 percent margin necessary for success. We are running a No campaign, and we are successfully keeping our opponents below 50 percent. We are highly energized across the state and we believe this will be a close election. We reject any suggestion that there will be a last minute surge for Prop 8 in a year where California is expected to go overwhelmingly for Sen. Barack Obama. In fact, today Prop 8 Campaign Manager Frank Schubert released a blog statement fretting that the presidential election would be called early on the East Coast, thereby depressing conservative voting in California. Finally, we note that the Field Poll has a stellar record on initiatives and has been accurate 94 percent of the time." – 'No on 8 Senior Campaign Adviser Steve Smith'

Voter confusion seen over whether "no" means "yes" or "yes" means "no".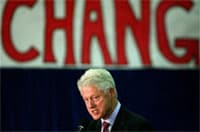 Millions of registered voters in California received a phone call from Bill Clinton last night, according to the "No on Prop 8" campaign. Said Clinton in the call: "This is Bill Clinton calling to ask you to vote NO on Proposition 8 on Tuesday, November 4th. Proposition 8 would use state law to single out one group of Californians to be treated differently — discriminating against members of our family, our friends and our co-workers. If I know one thing about California, I know that is not what you're about. That is not what America is about. Please vote NO on 8. It's unfair and it's wrong. Thank you."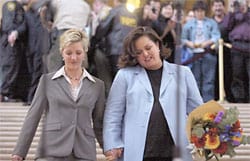 ROSIE O'DONNELL's lack of engagement (and donations) to the "No on Prop 8" battle has been getting a lot of attention recently. Jeremy at Good as You has compiled the points she has made about it on her blog. Considering the fact that O'Donnell and her partner took advantage of the California marriage law back in 2004, her absence today is baffling.

A group of SILICON VALLEY TECH LEADERS took out a full page ad in the San Joe Mercury News today urging voters to "Say NO to Prop 8":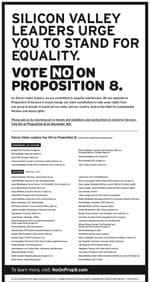 "The honorary co-chairs of "Silicon Valley Leaders Say NO on Proposition 8″ include: Sergey Brin; Bill Campbell, Chairman, Intuit; David Filo, Founder, Yahoo; Chuck Geschke, Founder and Chairman, Adobe Systems; John Morgridge, Former CEO and Chairman, Cisco Systems; Pierre Omidyar, Founder and Chairman, eBay; Sheryl Sandberg, COO, Facebook; Eric Schmidt, CEO, Google; and Jerry Yang, Founder, Yahoo." Click to enlarge or view it here.

A new internet poll shows that Prop 8 fails with Latino voters.

The "No on Prop 8:" campaign released a statement by 300 CALIFORNIA PEDIATRICIANS refuting the MD who signed the Prop 8 ballot argument. "The pediatrician statement took issue with Dr. Anderson, who identifies herself as a Fellow of the American College of Pediatricians. According to that organization's Web site, the American College of Pediatricians believes homosexuality is "preventable and changeable" and that "spanking can be an effective component of discipline."

Here's an ABC News report on the battle.

Security has been stepped up around Superintendent Jack O'Connell, the California Superintendent of Schools, following nasty correspondence directed his way over producing this ad expressing his opposition to Proposition 8

Stephen Colbert went after Apple and Prop 8 with his typical facetious approach.
Here are two new web spots. It's a shame the one on the left, by Republicans Against 8 and featuring Ronald Reagan and Arnold Schwarzenegger, is not running on TV (as far as I know). The other is made by CauseCast and features Kathy Griffin and others.
THE OTHER SIDE:
This is what's happening this weekend in San Diego – 'THE CALL' – a massive prayer vigil and rally against same-sex marriage at Quallcomm stadium.

Focus on the Family's James Dobson explained on his radio show his "sudden decision" to go to California this weekend to join Lou Engel, Tony Perkins and others at the massive "The Call prayer rally in San Diego. Listen to the AUDIO as "Dobson chokes up explaining that despite having been on the go for weeks and being exhausted, he knew God wanted him there."

COUNTER: Here is a list of INTERFAITH SERVICES with "No on 8" themes happening throughout California this weekend.

Threatening politicians: Campbell City Council member Evan Low says he has been threatened with recall. "I have received seven calls today threatening to recall me from office if I do not publicly retract my position and switch to Yes on 8. The Yes on 8 campaign is continuing their efforts of deception and coercion. Let's have a strong showing during this final stretch." Last week I mentioned that the 'Protect Marriage' thugs were blackmailing businesses to force them to support Prop 8.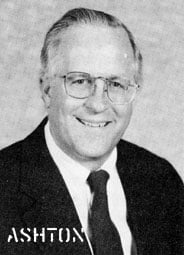 The secret $1 million donor to the "Yes on 8" campaign has been revealed. It's Mormon bigot Alan Ashton, of Lindon, Utah. "According to the Deseret News, Ashton is a Mormon and grandson of David O. McKay, President of the Mormon Church from 1951-1970. Ashton made his fortune in software. The donation was reported by the Prop 8 campaign on October 28. The funds were in the form of matching funds to air a TV commercial that includes images of children who are being aired over the objection of their parents." Ashton is the cofounder of WordPerfect. His fellow cofounder, Bruce Bastian, gave one million for our side.

As you may know, the "No on Prop 8" website was the victim of a massive coordinated Denial-of-Service DOS attack by hackers which brought it down for several hours on Wednesday. The "Yes on 8" people have been throwing everything they can at this, including plenty of cash. Yesterday I posted a video of spokesperson Brad Dacus comparing gay marriage to Nazi Germany!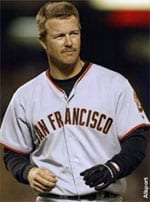 Los Angeles Dodgers second baseman Jeff Kent has given $15,000 to the anti-gay bigots. The U.S. Conference of Catholic Bishops has donated $200,000 to the anti-gay bigots: "Along with leaders of the Church of Jesus Christ of Latter-day Saints and evangelical Christians, Catholic clergy and laity have been active participants in the coalition of religious groups working to pass the initiative. Donations totaling $1.4 million have made The Knights of Columbus, a Catholic fraternal organization, the largest institutional donor to the Yes on 8 campaign."

"Yes on 8" has gone so far to squat on domain names that are one letter off of the "No on Prop 8" campaign's. If an internet visitor types in "wwwnoonpro8" and leaves out a "p", they are directed to the "Yes on 8" website.
TAKE ACTION:

You have until midnight tonight to DONATE HERE and help win this battle.

There is a CANDLELIGHT VIGIL in SAN DIEGO at The Center at the corner of University Ave. & Center St. starting between 8 and 8:45 pm on Saturday night in response to the ugly THE CALL prayer and fast I featured above. San Diego Mayor Jerry Sanders will attend that rally.

There is a massive "No on Prop 8" rally in West Hollywood this Sunday at 4 pm. The No on Prop 8 organizers write: "We need as many bodies out on the street as we can get. We have official picket signs but we encourage everyone to make signs as well. However, please keep the signs simple – (No on Prop 8 or Defeat Prop 8). Let's also make sure that we make a good impression in front of the media, so please no profanity and dress appropriately."

Here is a list of INTERFAITH SERVICES with "No on 8" themes happening throughout California this weekend.

BUS TOUR: Three families and friends will be embarking on a "No on Prop 8" bus tour beginning Saturday, November 1st at 9:00am at the entrance to the Santa Monica Pier: "The families will be comprised of both gay and straight parents, and grandparents. Confirmed to be on hand in Santa Monica, will be Mark Ruffalo and his family. Waiting for confirmation for several other celebrities. In addition, a crowd of over 300 opponents to Prop 8 are expected to show…the bus will get up to San Francisco by Sunday evening. The journey on Monday morning will take them to the steps of the state capital in Sacramento. Afterwards the bus will return to Los Angeles with a final stop at 7pm at West Hollywood Park on San Vicente Blvd.

Search your zip code for Prop 8 donors.
Recent Prop 8 Updates
'Yes on 8' Spokesperson Compares Gay Marriage to Nazi Germany [tr]
Joe the Would-Be Plumber Charged in 'Prop 8' Anti-Gay Hate Crime [tr]
'No on Prop 8' and Florida 'No on 2' Sites Under Coordinated Attack [tr]
Proposition 8 Update: Internal Polling Shows Dead Heat: Urgent Help Still Needed [tr]
Constitutional attorney Jim Brosnahan SPEAKS OUT:
Top pumpkin image via sweet talk.