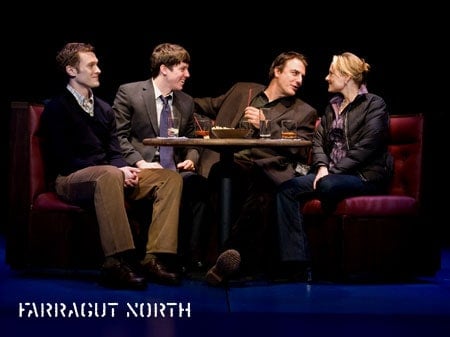 Kevin Sessums recently reviewed 'Streamers' and 'The Language of Trees' as well as 'All My Sons' and 'Speed-The-Plow' for Towleroad. You can also catch up with Kevin online at his own blog at MississippiSissy.com.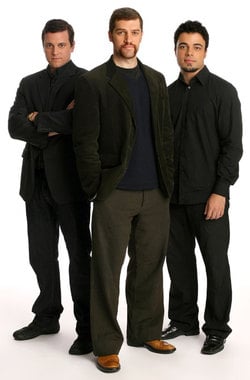 Yesterday I wrote about how off-Broadway productions are often occasions to discover unknown actors. It's an especially pleasant surprise when those actors are not only talented but also sexy. The lastest examples of that are the three actors portraying professional baseball players in Back Back Back, the new play about steroid use in professional sports penned by Itamar Moses, a graduate in Dramatic Writing from NYU who has taught at both NYU and Yale and currently has couple of other plays debuting at regional theatres in Chicago and Berkeley. I was a big fan last season of Moses's The Four of Us, which was staged in the small blackbox space at Manhattan Theatre Club's 55th Stree outpost which is also where Back Back Back is getting a first-rate production though the play itself is more Triple A than major-league. Its nine intermissionless scenes – get it? nine scenes = nine innings – have been smoothly directed by Daniel Aukin, who was Artistic Director of Soho Rep from 1999-2006.
But back back back to those sexy actors, especially Jeremy Davidson and James Martinez, who portray, respectively, the Mark McGwire and Jose Canseco, stand-ins. I kept wondering if MTC's lawyers had vetted the play for any kind of accusations of slander since the characters are so obviously based on those two players who were most famously caught up in the game's steroid scandals. Yet each of the actors transcends such obviousness and lends each of their roles an individuality that is – visually, viscerally – a kick to behold. Since the play takes place in the close confines of a blackbox theatre it makes it seem as if the audience is, in turn, right next to them in the close confines of the many locker rooms in which the play takes place. Believe me, you'll be thankful for such proximity.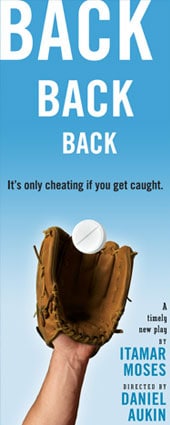 Martinez, a graduate of the Julliard School of Drama, is remarkable in displaying the hyper-machismo of his character, a machismo that is just short of roid-rage. He finds a kind of comedic timing to Moses's lines that is constantly surprising. I found myself appalled at my own laughter as his lacerating performance kept building and building. Davidson's is the quieter performance so that when he erupts before their Congressional hearing in an anteroom where they both are awaiting their testimony during the play's penultimate scene, it is a shattering moment for the audience as he lets us see the shattered shell of the sports hero he once was. With his almost burly body and huge handlebar mustache, the extremely handsome Davidson attains the look of a 70's porn star more than a 90's baseball player. But who's complaining. He gave an acclaimed performance as Brick in Cat on a Hot Tin Roof a few years back at the Kennedy Center in Washington, D.C. And he could bring out the Maggie the Cat in any of us. Or, better yet, that unseen, much discussed Williams character, Skipper, Brick's unrequited love. Okay, stop rolling your eyes. Towleroad is, after all, a site with homosexual tendencies. Allow me to tend mine.
The third actor in the troika of the play is Michael Mosley. Not as outwardly sexy as the other two, he achieves his own boy-next-door sensual appeal by serving as the play's moral core. There's a lot to be said for goodness as a turn-on. And he holds his own against the more forceful performances of the other two actors. Aukin weaves him into the increasingly rancorous and paranoid story with a stealthy strength. He is literally the last man standing at the play's end.
T T (out of 4 possible T's)
Back Back Back, MTC at New York City Center, 131 West 55th Street, New York. Ticket information here.
(photos: Joan Marcus)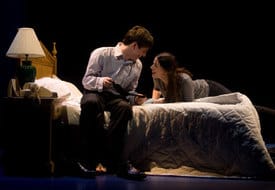 The Atlantic Theatre's production of playwright Beau Willimon's Farragut North – a kind of All About Eve crossed with the The Best Man if David Mamet, the Atlantic's founder, had mated them – has a rather storied pedigree on the way to its production in the theatre's 20th Street location. Seeing an early draft of the play, George Clooney bought the film rights to it (Willimon, who got his M.F.A. in playwriting from Columbia, is adapting it) as a vehicle for himself and Leonardo DiCaprio. Then it was announced that Jake Gyllenhaal was signed to play the DiCaprio character in a Broadway production. When Gyllenhaal dropped out, the Broadway production fell through and the play – thankfully – ended up at the estimable Atlantic where it is getting a production that really could not be bettered.
Continued, AFTER THE JUMP…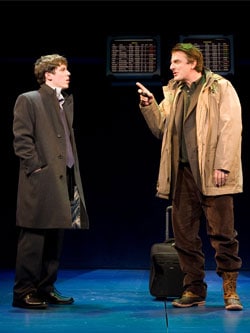 The play itself, however, is a rather predictable one. I could see all the plot twists coming almost from the first scene onward but that did not take away from the enjoyment of Doug Hughes' direction or the wonderful performances he has elicited from his perfectly cast actors and actresses. Chris Noth (AKA Mr. Big from Sex in the City) has cast aside the roue that Carrie Bradshaw loves with such ridiculous fervor and, in fact, is able to banish all thoughts of Mr. Big from our minds as he shuffles about the stage talking of bowel movements and past political battles. He is the manager of an inchoate presidential campaign taking shape in the caucus state of Iowa, the machinations of which form the plot of the play. His is a rumpled, cynical presence and he wonderfully captures the character's world-weariness, his curdled idealism.
Olivia Thirlby plays the campaign's intern who beds anybody she damn well pleases. Thirlby, who was so memorable as the best friend in Juno and the young seductress in The Wackness, is equally as memorable onstage as she is on the screen. It's a devastingly good off-Broadway debut and I can't wait to see more of her work in the future.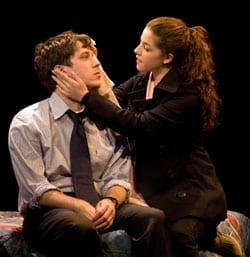 But the play belongs to John Gallagher, Jr., as the stripling – the campaign's overly ambitious press secretary – who strips everyone in his path of their dignity until he is left with none of his own. I've seen Gallagher in three roles now. He was eerily moving in the Pultizer Prize winning play, Rabbit Hole, and even more so in his Tony Award winning performance as Moritz in Spring Awakening. And now as this preppy son-of-a-bitch in Farragut North, which refers to the subway stop in D.C. where all the myriad lobbyists – Republicans and Democrats both – disembark. Gallagher has not only given completely different and astounding performances in each play, but he has even looked completely different in them all. His talent is literally transformative.
For all you political junkies out there who are jonesing ever since Obama beat McCain and are counting the days until his inauguration on January 20th, I'd recommend getting a fix over at the Atlantic.
T T T (out of 4 possible T's)
Farragut North, Atlantic Theatre Company, Atlantic Theater Company at the Linda Gross Theater, 336 West 20th Street, New York. Ticket information here.
(photos: Jacqueline Mia Foster)
Recently Reviewed
On the Stage: Streamers and The Language of Trees [tr]
On the Stage: All My Sons and Speed-the-Plow [tr]
On the Stage: A Man for All Seasons [tr]
On the Stage: Equus and The Seagull [tr]