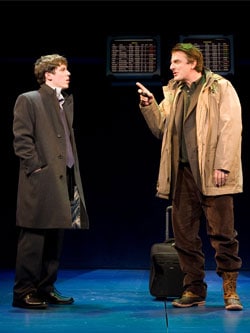 The play itself, however, is a rather predictable one. I could see all the plot twists coming almost from the first scene onward but that did not take away from the enjoyment of Doug Hughes' direction or the wonderful performances he has elicited from his perfectly cast actors and actresses. Chris Noth (AKA Mr. Big from Sex in the City) has cast aside the roue that Carrie Bradshaw loves with such ridiculous fervor and, in fact, is able to banish all thoughts of Mr. Big from our minds as he shuffles about the stage talking of bowel movements and past political battles. He is the manager of an inchoate presidential campaign taking shape in the caucus state of Iowa, the machinations of which form the plot of the play. His is a rumpled, cynical presence and he wonderfully captures the character's world-weariness, his curdled idealism.
Olivia Thirlby plays the campaign's intern who beds anybody she damn well pleases. Thirlby, who was so memorable as the best friend in Juno and the young seductress in The Wackness, is equally as memorable onstage as she is on the screen. It's a devastingly good off-Broadway debut and I can't wait to see more of her work in the future.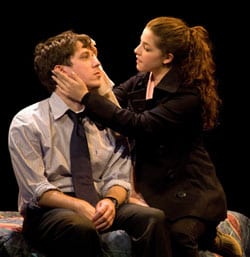 But the play belongs to John Gallagher, Jr., as the stripling – the campaign's overly ambitious press secretary – who strips everyone in his path of their dignity until he is left with none of his own. I've seen Gallagher in three roles now. He was eerily moving in the Pultizer Prize winning play, Rabbit Hole, and even more so in his Tony Award winning performance as Moritz in Spring Awakening. And now as this preppy son-of-a-bitch in Farragut North, which refers to the subway stop in D.C. where all the myriad lobbyists – Republicans and Democrats both – disembark. Gallagher has not only given completely different and astounding performances in each play, but he has even looked completely different in them all. His talent is literally transformative.
For all you political junkies out there who are jonesing ever since Obama beat McCain and are counting the days until his inauguration on January 20th, I'd recommend getting a fix over at the Atlantic.
T T T (out of 4 possible T's)
Farragut North, Atlantic Theatre Company, Atlantic Theater Company at the Linda Gross Theater, 336 West 20th Street, New York. Ticket information here.
(photos: Jacqueline Mia Foster)
Recently Reviewed
On the Stage: Streamers and The Language of Trees [tr]
On the Stage: All My Sons and Speed-the-Plow [tr]
On the Stage: A Man for All Seasons [tr]
On the Stage: Equus and The Seagull [tr]