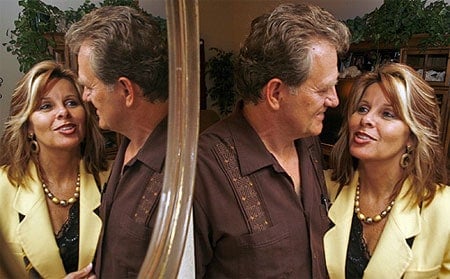 The L.A. Times on Sunday profiled Able and Robbie Ferreira, a Christian couple from Spring Valley, California, who were "called to action" by Proposition 8:
"For 40 days, the couple gave up coffee and didn't eat for 12 hours a day. And Robbie gave up "Days of Our Lives," the soap opera she had been watching since high school. The fast culminated at a huge rally Nov. 1 at San Diego's Qualcomm Stadium. The Ferreiras were ushers at the event, known as 'The Call,' where a pastor named Lou Engle orchestrated 12 hours of prayer for the passage of Proposition 8. 'We were praying for revival in this country, that this quest to darkness would stop,' Abel remembers.
Said Abel: "I saw [Proposition 8] as a crossroads in our country. I feel like for the sake of our country and our family I had to stand up and be heard. It definitely let us know that we're in a battle. When you're in the heat of the moment, there's no standing on the fence. You're committed. And we're committed to this fight.
Added Robbie: "I'm just seeing our morals and everything just deteriorating before us. The thing that affected me the most was knowing that my grandkids are going to be taught this ungodly and sinful act as if it's OK. I thought from that point on, 'No. I will fight for them. I don't have them yet, but I'm going to fight for them.'"
The Ferreira's profile was balanced by another, of recently married twentysomethings Christopher Lewis and Cody Horton:
"Before they moved here, the self-effacing couple had never even seen a demonstration, much less protested themselves. But two days after the election, they drove two hours into Los Angeles and nervously joined the throngs marching in protest against Proposition 8. The next night, they were back on the streets in Long Beach. The night after, in Silver Lake, then Westwood and downtown L.A. 'It just hurt so bad; it's all we could think of doing,' Lewis said. 'It's all we have left.' They are pessimistic that the California Supreme Court will overturn the ban, despite the high-profile appeals by top politicians, including state Atty. Gen. Jerry Brown. 'I did send a wedding picture to the chief justice and wrote a note on the back of it asking him to share it,' Lewis said. 'Hopefully, if they see enough faces, they will realize that their decisions make a huge difference.'Lewis, 24, and Horton, 20, found each other online during one lonely Christmas vacation in 2006."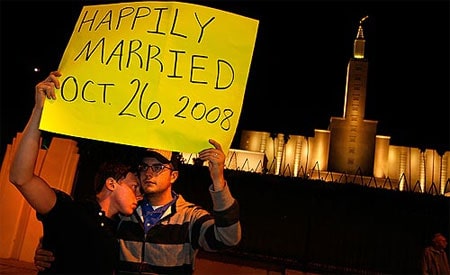 Gay couple won't let Proposition 8 steal their dream [la times]
Proposition 8 moves Christian couple to action [la times]