An anti-discrimination law passed late last year has been rescinded by a City Commission in Kalamazoo, Michigan. Last week I posted that if that did not happen, the measure would have likely gone before voters.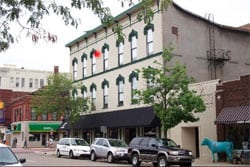 The Chicago Tribune reports:
"The commission voted Dec. 1 to make it a civil offense in the city of 7,200 (note: pop. a typo – it's around 77,000) to discriminate in housing, public accommodations or employment based on sexual orientation or being transgender. The American Family Association of Michigan submitted petitions with about 1,600 signatures seeking the law's repeal. If officials found at least 1,273 signatures valid, the commission would have had to rescind the law or put it on the ballot. The commission voted 7-0 Monday night to rescind it."
Despicable.