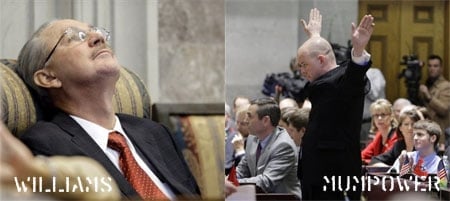 Here is some Survivor-style politics in action. Tennessee Republicans on Tuesday elected their first House speaker in more than 40 years, but it was not the guy everyone was expecting.
Republicans in the Tennessee House went nuts after they were blindsided in a political move by one of their members, Kent Williams, who said he was voting with the rest of the GOP for Rep. Jason Mumpower of Bristol, but instead plotted with 49 House Democrats and cast the deciding vote in a 50-49 vote to elect himself House speaker:
"Williams' victory was loudly booed by Republicans in the gallery who were stunned by Mumpower's loss on what was supposed to be a triumphant day for their party, the Associated Press reported. 'I don't consider myself a traitor,' Williams said after the vote. 'I voted for a Republican, a Republican who can lead.' Although Williams has promised a bipartisan approach to appointing committees and chairmen, [new state Rep. Joe] Carr doubts the new speaker will honor that pledge. 'There's no evidence for him to keep his promise,' Carr said."
The Republicans are now trying to strip Williams of his party affiliation.
Watch the video of the vote, AFTER THE JUMP…