Tom Hanks has apologized for remarks he made last week calling Mormons who voted for Prop 8 "un-American":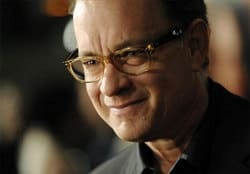 "Last week, I labeled members of the Mormon church who supported California's Proposition 8 as 'un-American. I believe Proposition 8 is counter to the promise of our Constitution; it is codified discrimination. But everyone has a right to vote their conscience; nothing could be more American. To say members of the Church of Jesus Christ of Latter Day Saints who contributed to Proposition 8 are 'un-American' creates more division when the time calls for respectful disagreement. No one should use 'un- American' lightly or in haste. I did. I should not have."
Hanks made the remarks at the HBO premiere of Big Love, a series centered around a fundamentalist Mormon family that practices polygamy.