Towleroad has been voted the "Best LGBT Blog" in the 2008 Weblog Awards. Voting closed on Tuesday, but the final results were just announced this afternoon.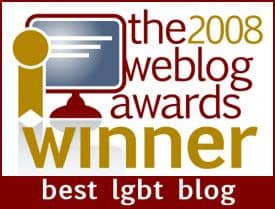 We'd like to thank everyone who put in their votes for us last week. We're thrilled to win the award, but the bigger prize, of course, is that you come back day after day, making us one of the most widely-read blogs out there. We know you have a lot of choices, and we value your participation and will continue to try and make Towleroad better with you.
We'd also like to thank some of our contributors over the past year — Robbie Daw, Kevin Sessums, Josh Helmin & Josh Koll, and Jon Barrett — for their work.
Finally, we'd like to thank the other terrific blogs that Towleroad was in competition with for their support, and their congratulations following the competition.
—Andy Towle and Michael Goff
Those sites, which exemplify the wide range of LGBT voices you can find on the web, are:
Blabbeando, a Latin-flavored blog written by Andrés Duque.
Gay Patriot, for the conservatives out there.
JoeMyGod, last year's winner, and a NYC bud.
Pam's House Blend. She won in 2006 and she's still steamin!
Susie Bright's Journal, written by a bisexual author living in Santa Cruz.
Tammy Bruce, "openly gay, pro-choice, gun owning, voted- for-Bush, authentic feminist."
The Bilerico Project, a group blog based in Indiana that this year launched a Florida site.
This Girl Called Automatic Win, a bi blogger. She describes it best!
TransGriot, written by Texan trans woman Monica Roberts.
Also, congrats to Andrew Sullivan and The Daily Dish. He took the overall award in the competition for Best Blog. There are plenty of other great blogs as well. Check them all out here.