Despitea petition from the Courage Campaign signed by more than 26,500 people calling for him to respect the boycott of Proposition 8 supporter Doug Manchester's Manchester Grand Hyatt, former President Bill Clinton gave a speech there Sunday to the International Franchise Association, the San Diego Union Tribune reports: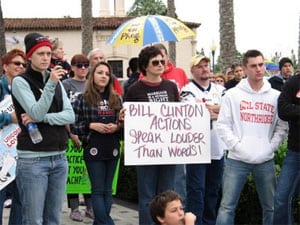 "Before he spoke, about 150 to 200 Proposition 8 opponents and union supporters rallied outside the downtown San Diego hotel. They have called for a boycott of the hotel since July, after owner Doug Manchester donated $125,000 to the campaign to ban gay marriage in California. The complaint of union officials is that Manchester requires more work of maids and other employees than most hotels. 'He's crossing protests by gay and lesbian people and labor,' said Jim Brady, 48, of Hillcrest, who held an American flag during the rally. 'We just can't support this business.' Organizers estimated there were about 200 protesters; San Diego police said about 150."
Rex Wockner also covered the protest. He reports: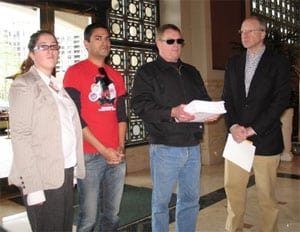 "No representative of the IFA was available to speak to media, and hotel officials said Clinton would not be available to reporters either. The officials prohibited a reporter from accessing the floor on which the convention was taking place. An openly gay hotel spokesman, Kelly Commerford, said "the voters have spoken" on same-sex marriage in California and that the views of Manchester do not represent those of Global Hyatt Corp., which has received high marks on scorecards charting corporations' policies on GLBT issues. Near the demonstration's end, four gay activists entered the hotel in an attempt to deliver to Clinton 30,000 signatures collected by the Courage Campaign urging Clinton to relocate his convention address to a different venue. Courage Campaign Chair Rick Jacobs (right), NAMES Project AIDS Memorial Quilt founder and union activist Cleve Jones (holding petitions), Sara Beth Brooks of the San Diego Equality Campaign (left), and local Pride at Work Co-chair Carlos Marquez were halted just inside the main entrance by hotel staff. The activists requested that Clinton or a representative meet with them to receive the petitions. The hotel staff said they would relay the message, then walked away."
Wockner took the photos here and has many more available at his blog.
Gays Picket Bill Clinton in San Diego [rex wockner]
A local news report broadcast before the planned picket as well as video of Clinton being introduced inside the venue, AFTER THE JUMP…