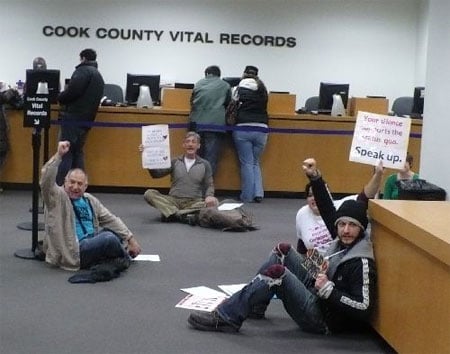 A demonstration at the Cook County Marriage License Bureau in Chicago on Saturday resulted in the arrests of seven people who initiated a sit-in after a gay couple was refused a marriage license. Protestors picketing outside later jammed the hallways of the building to chant while the sit-in proceeded. Some of the clerks and security appeared amused by the protest and raised hands in solidarity: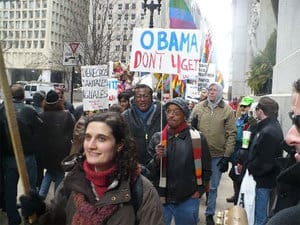 "When Buddy Bell and Dale Fecker were refused a marriage license, they were joined by Dan Ware, Danielle Karczewski, Jeff Graubart, Erica Chu, and Nick Ferrin for a sit-in at the Bureau located in the Cook County Building, 118 N. Clark St. 'The law divides society into groups and assigns one group rights while giving lesser rights to the other group. The laws violate the equal protection guaranteed for all citizens under the Constitution,' said Ferrin. Meanwhile, about 400 protesters rallied outside the Bureau and then marched to the Bureau's doors with a chant that's been popular here since last spring, 'Obama, Obama, let mama marry mama.' The Chicago protesters saw their action as a way to help sway the California Supreme Court to throw out Proposition 8."
Photos here by Chicago IMC. More great photos here at Chicago Indymedia.
Watch a clip of highlights of the protest, plus video of the activists inside the office right before the arrests, AFTER THE JUMP…