New Hampshire's House Judiciary Committee will hold hearings on two bills tomorrow — one to fully legalize same-sex marriage (the state already has civil unions for same-sex couples), and the other to repeal the civil union legislation and ban same-sex marriage.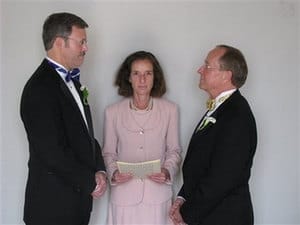 Seacoast online reports: "New Hampshire Episcopal bishop Gene Robinson, a vocal gay rights leader who delivered the invocation at one of the inaugural events last month for President Obama, will be one of those testifying in favor of gay marriage legalization. The legislation is sponsored by Democratic representatives Jim Splaine and Paul McEachern of Portsmouth. If passed and signed into law by Gov. Lynch, who signed civil union legislation in 2007 but has opposed gay marriage in the past, gay marriage would go into effect on Jan. 1. It would recognize marriage as, according to the bill's text, 'the legally recognized union of two people. Any person who otherwise meets the eligibility requirements of this chapter may marry any other eligible person regardless of gender.' The bill would also give same gender couples who entered into a civil union before the enactment of this bill the right to obtain the legal status of marriage."
Robinson joined in a civil union with his longtime partner Mark Andrew (above, right) in June of last year.
The other bill, sponsored by Rep. John Flanders, R-Kingston, and Sen. Jack Barnes, R-Raymond, states: "Marriage between one man and one woman shall be the only legal domestic union that shall be valid or recognized in this state."
There's another anti-gay bill on the docket too, which would prohibit out-of-state same-sex unions from being recognized as civil unions in NH. A vote is not expected on the bills tomorrow.
I've re-posted our interview with New Hampshire Democratic Party Chair Ray Buckley (now President of the Association of State Democratic Chairs) at Obama's inauguration, AFTER THE JUMP…