A three-hour hearing on same-sex marriage packed approximately 1,000 people into the Vermont State House in Montpelier, Vermont last night. Overflow crowds were relegated to separate rooms, the Burlington Free Press reports: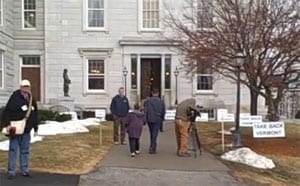 "The House and Senate Judiciary committees…heard from about 70Vermonters, although about 200 signed up to speak. Senate JudiciaryCommittee Chairman Richard Sears, D-Bennington, said there were 115 forsame-sex marriage and 85 against on the list. The Senate committee is expected to vote out a bill allowing same-sexmarriage by week's end, putting it before the full Senate next week."
Hearings began at the state capitol on Monday. Meanwhile, the anti-gay group National Organization for Marriage has begun airing "Don't Mess with Marriage" ads across northern New England. Listen to their hideous misleading ads on the NOM site. Friday, a group of more than 300 lawyers representing approximately 15% of the state Bar held a news conference (pictured) in support of legalizing same-sex marriage in the state. Earlier this month, lawmakers expressed confidence that the bill would pass this session.
Watch the entire hearing recorded last night on video, at the Burlington Free Press.
A WPTZ news report on the hearings, and a citizen report, AFTER THE JUMP…