According to the Honolulu Advertiser: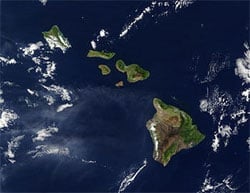 "The state Senate [Wednesday] rejected a motion to recall a civil-unions bill from committee…The vote on the motion to pull the bill was 18 to 6 in opposition.
Under the state Constitution, it takes the votes of nine of 25 senators
to recall a bill from committee. The bill, which passed the state
House last month, would give same-sex partners the same rights,
benefits and responsibility as married couples under state law. The state Senate Judiciary and Government Operations Committee split 3-3 on the bill last month. The
Senate gallery was full of observers and a crowd gathered outside. Many
in the crowd were wearing red, the symbol of opposition to civil unions."
HRC's President Joe Solmonese issued a statement: "Today's vote helps no one in the state of Hawaii. It protects no one's
marriage. It grants dignity to no couple's relationship. It does
nothing to ensure that all families receive the equal rights and
responsibilities they deserve. But no one is giving up.  The Human
Rights Campaign is proud to have partnered with the Family Equality
Coalition on behalf of this critical legislation. It has been a long,
hard struggle for couples and families in Hawaii who simply want equal
rights, and this effort continues, as it does across the nation."